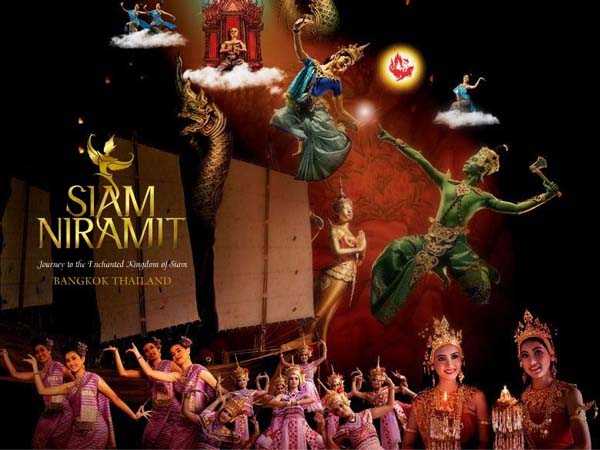 Looking for something fun to do on an evening in Bangkok? Want to learn a little about Thai culture and history, but don't want to be bored by it? Then you might want to consider picking up tickets to Siam Niramit, an 80-minute lavish evening show that should be a must-do on every visitor to Bangkok's list.
Siam Niramit has been on-going in Bangkok for years, yet its still almost sold-out every night.  It's a world-class show, very much like something you'd see in Las Vegas, with more than 150 actors, actresses, dancers and musicians who, in the course of the show wear more than 500 costumes.
When I say 'costumes' though, I am not talking about your average stage show costume. The costumes at Siam Niramit are elaborate, beaded, wildly extravagant and portray Thailand and Thai history through all its many incarnations.
At Siam Niramit, the show takes place on an enormous stage, with a staggering light show, unbelievable acrobatics (think Cirque de Soleil in traditional Thai dress) and, yes, even elephants.
Tickets for Siam Niramit aren't cheap (usually 1,500 baht ($50) a pop), and there's another 350 baht ($12) to pay, if you would like to eat the Buffet Dinner but…….the show did cost them $40 million (US dollars, that is) of initial investment and, yes, it is well worth the ticket fee.
Plus, if you stop by the Tourist Office at Siam BTS sky train station or at Information at Siam Paragon mall, they often have flyers offering "2 tickets for the price of 1" or "Buy one, second 50% off"). Or, if  you stop by any travel agent, you will get a cheaper price than 1,500 baht, so no need to pay full cost.
The show starts at 8pm every night, but gates open at 5:30pm and, as there's an enormous entertainment complex to look around, you should get there early.
For more information, the Siam Niramit website has everything you would ever want to know about the show, including photos!