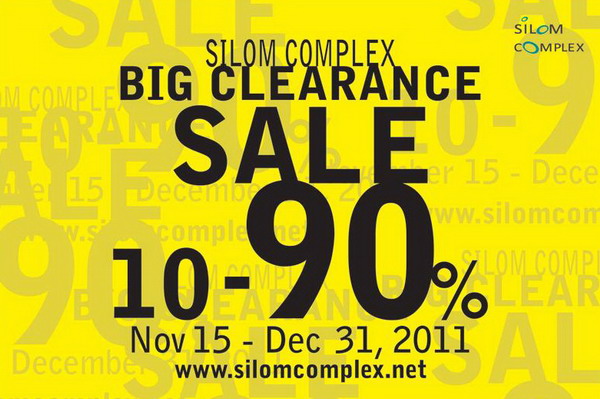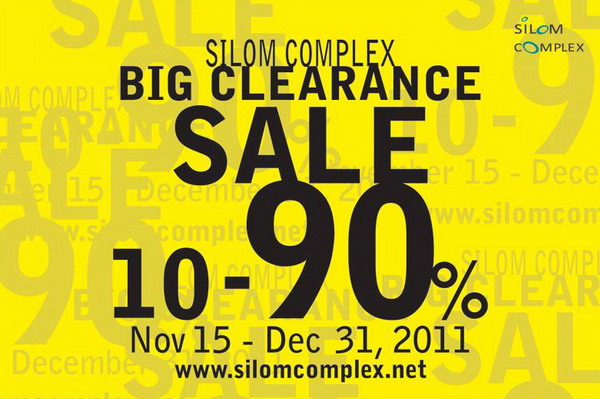 I started shopping at  Silom Complex Shopping Center when I moved to Thailand 10 years ago. Today, although I don't shop there as much, I still love this old-fashioned Thai mall. It's less visited by tourists than other downtown Bangkok shopping centers, has a funkier, more traditional Thai feel to it and, located as it is right next to the sky train, it's easily accessible from all over town.
Now is the perfect time to check out Silom Complex Shopping Center as, in a few months, it will be closing for a major renovation. When it does, that traditional Thai mall will be lost forever. Go before it's too late.
They also have a gigantic Silom Complex Big Clearance Sale, running from now until December 31st. You'll likely find awesome bargains here.
Location of Silom Complex Shopping Center – It couldn't be easier to shop at Silom Complex. Located right next to Sala Daeng sky train station, there's even a pedestrian bridge that goes directly from the sky traiin station into the mall itself. Perfect for when it's raining too.
Shopping at Silom Complex – Although you won't find any of the upscale, hi-so shops you'll see at Siam Paragon and Central World Plaza, shopping at Silom Complex is still a fun experience. From the minute you walk through the main entrance with Watson's pharmacy on your left hand side and Pena House fashion chain on your right, you'll figure out quickly, it may be old-fashioned but it does have lots of charm.
The main shopping venue at Silom Complex is the Central department store at the back of the mall. While smaller than other Central stores, it still carries a large variety of products — everything from clothing, shoes and accessories to suitcases, toys and household supplies. On any visit to Silom Complex, don't miss stopping off at Central. Every day prices are high but, as they run lots of sales, you'll often find bargains here.
On other floors of the mall, there's an Yves Rocher if you like imported cosmetics and beauty products, Swarovski crystal, a large Power Buy for all your electronic and gadget needs, Pierre Cardin and Jaspal for clothes, and Nike Woman for shoes.
What Silom Complex is really known for though is its huge number of opticians and beauty spas. So, if you need a new pair of glasses, contact lenses, or a Botox treatment, here's the place to get it.
For groceries there's a decent Tops supermarket in the basement and, if you're looking for particular vitamins or medical prescriptions, I recommend Lab Pharmacy, as I've been able to find items here I haven't found at other Bangkok pharmacies.
Check out the market stalls on the main concourse on the ground floor. Different stalls are set up here all the time — jewelry, clothing, bedding, shoes, beauty products — depending on which companies are doing promotions. Bargains here can be excellent though. On one of my last visits to Silom Complex, I found a bookcase at one of the stalls similar to those I'd been looking at in a store near my house. My bargain price of 3,000 baht ($100), compared to the 7,000 baht ($230) at the store close to home, thrilled me for weeks, and they even delivered for free.
Eating at Silom Complex – One of my favorite places to eat is at Chester's Grill and Chester's Cafe. Just a small Thai chain restaurant serving mainly chicken dishes, their coffee shop is great for lattes, pies and cakes, but is wonderful for the huge group of Thai and expat older folks, who come here every day to hang out and chat with friends. I love sitting and just watching them relax, love life and catch up with the latest gossip.
Other restaurants include a Black Canyon Coffee (a large menu, and inexpensive prices), Shangrila Kitchen for Chinese food (good dim sum), Fuji for Japanese food and Cafe D'Orro (good sandwiches). Check out the basement too as there's a Hachiban Japanese noodle restaurant, an MK, Banana Leaf and S&P for Thai food and, of course, the obligatory Mister Donut.
More Information: