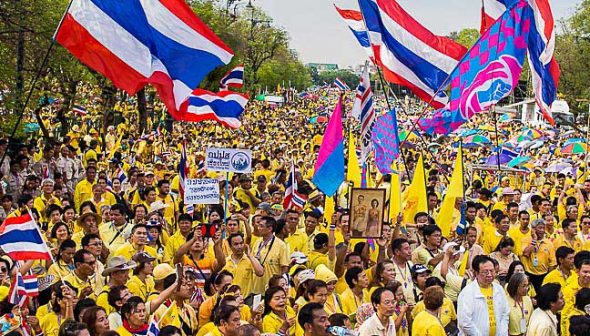 Thai former yellow shirt leaders lost their final appeal against an eight month jail sentence at the Supreme Court yesterday, and all were transported to Bangkok Remand Prison after the ruling was read out.
The six People's Alliance for Democracy (PAD) leaders, Maj Gen Chamlong Srimuang, 83, Sondhi Limthongkul, 70, Pibhop Dhongchai 72, Somkiat Pongpaibul, 68, Somsak Kosaisuk, 72, and Suriyasai Katasila, 45 had appealed against a guilty verdict of their break in into Government House in 2008. A break in that caused significant property damage.
Thailand's Supreme Court, however, looked at evidence showing the six yellow shirt leaders were responsible for demonstrators breaking into Goverment House, and causing more than seven million baht worth of damages.
The court then refused to overturn their conviction.
All six were originally found guilty by the Criminal Court in 2015, and given two to six years in prison. Those sentences were reduced to three years because their testimony was deemed to be useful.
Yesterday, those three year sentences were commuted to eight months after their appeal was denied.
The convicted leaders used an argument during the appeal that the demonstration they led outside Government House was peaceful.
The Supreme Court ultimately ruled against this, saying it was not peaceful due to the Goverment House break in, and resultant damage.
During the lead up to the Supreme Court decision, five of the former yellow shirt leaders had been out on bail waiting for the appeal.
Sondhi Limthongkul was the only man in jail, as he is also currently serving a 20 year sentence without parole for a securities commission crime.
Now all six are behind bars, with five not due for release until towards the end of 2019. It will be many more years, however, before Sondhi Limthongkul is released.