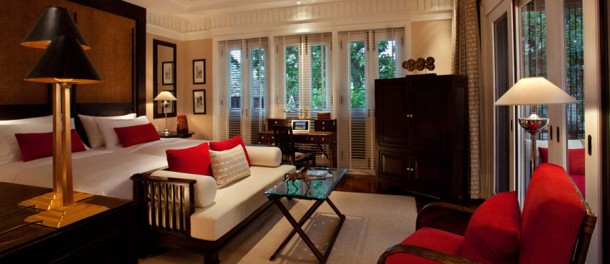 If you're looking for a luxury hotel on  your next trip to Chiang Mai, look no further than 137 Pillars House, a Lanna-style hotel in a superb location in downtown Chiang Mai. Not only is it a gorgeous boutique hotel, but from now until the end of October, 2012, 137 Pillars House is offering 3 nights for the price of 2 in one of the hotel's luxurious (and enormous) suites. You don't get cheaper luxury than that.
137 Pillars House is a brand new luxury boutique hotel in Chiang Mai, that has only been open since the beginning of March, 2012. Why not take advantage of their special offer before everyone learns what a special place this is, and you can't get a reservation!
At 137 Pillars House, the 3 nights for 2 special promotion includes accommodation, breakfast for 2, free Wi-Fi internet, and even an in-room coffee and tea tray. The hotel also has a stunning restaurant and bar, and is located in a traditional colonial teak house that was built in the early 1800s. Plus, you can even learn how to cook here from one of the hotel's magnificent chefs, if you book a cooking class in advance.
Don't miss the spa, swimming pool and gym too. After all, just because you're living in luxury doesn't mean you can't leave feeling even better than when you got there, does it?
137 Pillars House is located in the Wat Gate area of Chiang Mai, a gorgeous area of full of cafes, restaurants, art galleries and temples and the perfect location from which to explore the older more historical parts of Chiang Mai.
Depending on which suite you book into and the time of year you go, prices range from 12,600 baht (approximately $413) to 16,200 baht ($531) for the three nights.
You can get more information at 137 Pillars House' website, or by calling them at  (053) 247 788. But, seriously, if you love luxurious hotels and are also interested in a quiet place to stay that just oozes history, you won't get much better than 137 Pillars House.