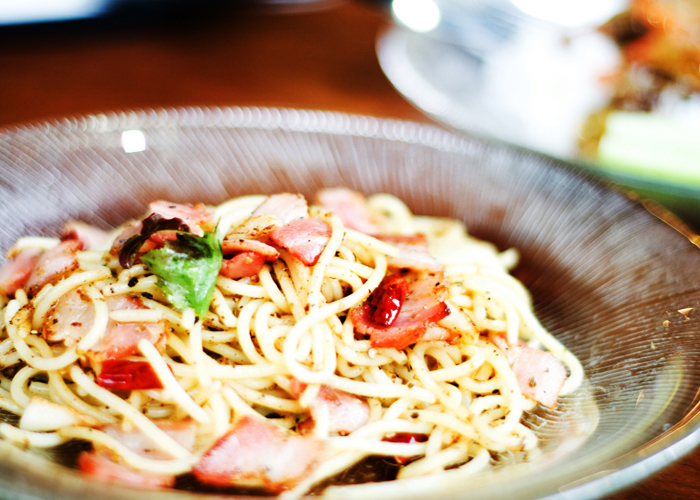 When a Thai friend suggested we eat at Sugar Lust Cafe and Bistro in Bangkok, Thailand, my first response was "Where?", followed by "Why would I want to trek there?", as it's miles away from where I live.  Of course, my friend pushed a bit more, and two days later I found myself eating lunch at Sugar Lust, a 10 year old Bangkok cafe that not only serves superb international food (with a bit of Thai thrown in) but it's trendy, cool and hip too.
Where is Sugar Lust Cafe and Bistro in Bangkok? – Sugar Lust is a small cafe and restaurant located on Sukhumvit Soi 26, close to the Phrom Phong BTS sky train station in downtown Bangkok. It's situated in a converted Thai house, in a garden full of tables and chairs, beanbags and hammocks. First sight, in fact, tells you it's not your typical Thai cafe as it's also packed with the artsy-fartsy crowd – a nice change in Bangkok from the usual I-want-to-see-and-be-seen – and folks I'd much rather be seen with.
The Atmosphere at Sugar Lust Cafe and Bistro – This place couldn't be more chill and laidback if it tried. Obviously something to do with the clientele, and of course the owner, Sugar Lust Cafe and Bistro was designed to be a home away from home, as well as a place where you can hang out for hours and not feel like you're in the way. There's lots of seating, some comfortable some not so much, wall murals and kitschy bric-a-brac. A wonderful place to enjoy nice food, good conversation and, oh yes, cocktails.
The Menu at Sugar Lust Cafe and Bistro – Known for its primarily international cuisine, there's a few Thai-style dishes thrown in too. The nice thing is the menu is written in English and Thai, something that's not always the case in Bangkok once you get off the main roads. Prices too are reasonable with various breakfast dishes less than 100 baht ($3), and soups, salads and pastas in the 55-150 baht ($1.30-$5) range.
As is usual with the Thai friend I ate with, we simply ordered a slew of dishes and began eating what arrived first – a Caesar salad, tuna and olives pasta, "UFO French fries with Sugar Lust dips" (you have to order those just for the name – they turned out to be similar to curly fries), stir fried chicken and basil with rice, a spicy prawn salad and lemongrass chicken. Yes, a bit of an odd mixture, but that's often the way in Thai fusion-style cafes – lots of odd things which, surprisingly, still go quite well together.
We also ordered iced mochas (we're both coffee addicts) and they were so nice, we had two.
The food at Sugar Lust Cafe and Bistro is presented beautifully. It looks like a photograph in a magazine when it's placed in front of you, all brightly colored and quite stylish too. Taste-wise, honestly, it's nice. Nothing to write home about, simply typical Thai-International fusion food, but still good enough.
What makes Sugar Lust Cafe and Bistro a place I'm likely to go back to again and again are the amazing coffee drinks, the equally fabulous cakes (finally, I've discovered somewhere in Bangkok that serves incredible carrot cake), and the lovely, lovely staff.
Sugar Lust Cafe and Bistro is located in a white walled-house, down a soi just a few minutes from Phrom Phong sky train station. We're both lazy so we took motorcycle taxis. You could of course walk but why?
Sugar Lust is also a great hangout on a Friday and Saturday night as there's frequently live music and a big crowd. Plus, did I mention, ……..cocktails?