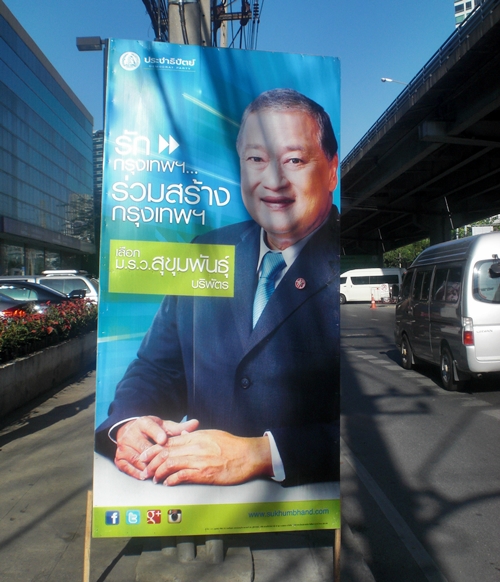 MR Sukhumbhand Paribatra was the last Governor of Bangkok. He resigned at the beginning of this month, so he could run a re-election campaign (find out more details about why in this Bangkok Post Learning From News article), with the actual election being held on March 3rd, 2013. But can MR Sukhumbhand Paribatra win re-election or is his re-election bid for Bangkok governor doomed?
MR Sukhumbhand Paribatra is a member of the Thai royal family (the prefix 'MR', abbreviated from Mom Rajawongse, is a prefix given to members of the royal family and, in English, means something similar to The Honorable) . He is the son of His Highness Prince Sukhumbhinanda, and the great-grandson of King Chulalongkorn (Rama V), one of Thailand's most revered kings.
Basically a position similar to Mayor, as governor Sukhumbhand Paribatra was responsible for many of the decisions of the day-to-day running of Bangkok as the governor is also head of the Bangkok Metropolitan Administration (BMA). During his four year tenure, Sukhumbhand was relatively popular with most voters, with few having particularly negative things to say about him. This, however, has changed in recent weeks as the 2013 Bangkok Governor election day draws nearer.
After being elected with more than 45 percent of the vote in 2009, a high majority for a Thai political race of this nature, Khun Sukhumbhand is currently running for re-election in a tight race with opponent Pongsapat Pongcharoen, Khun Pongsapat, a member of the popular Pheu Thai party, is  ending up slightly ahead in almost  every poll. Can Sukhumbhand win re-election, or does he not stand a chance against a Pheu Thai representative in Bangkok?
This week, Khun Sukhumbhand gave a video interview to The Bangkok Post and it was interesting to see what he had to say regarding his chances of re-election as governor and what the polls are saying.
Although some might disagree with a few of the things he says, it's difficult to disagree with his assessment of reasons why a high percentage of voters don't believe he did what he set out to do during his four-year term as governor. After all, he didn't expect to have to deal with massive flooding that put one third of Bangkok under water for almost a month.
Khun Sukhumbhand, of course, speaks fluent English like every member of the royal family and the majority of upper-class Thais.
(And sorry about the video starting automatically. I know it's obnoxious, and I hate it probably as much as you do. Unfortunately, the Bangkok Post has it set up that way).