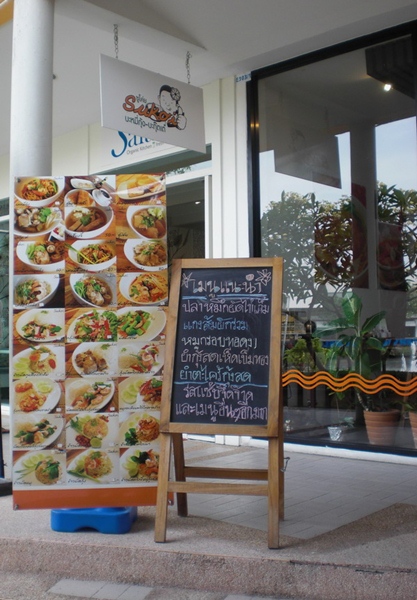 I love to share new discoveries with my readers and this week's is a cool Thai restaurant in northern Bangkok called 'Sukoi'. Sukoi is one of the relatively new restaurants in Bangkok's Bon Marche market on Prachaniwet 1, and serves a large menu of excellent Thai food, cooked fresh while you wait.
Sukoi is family-owned, the owners are lovely, the atmosphere is modern and trendy, and pristinely clean, and the food is excellent. If you like noodles, pad thai, chicken fried rice, lad naa or any other typical Thai dish, you'll enjoy eating at Sukoi.
Of course, being an indoor restaurant, their prices per dish are about 20 baht higher than at Bon Marche's food court but, to me, it was worth the extra price to not have to search, often unsuccessfully, for a table at Bon Marche's always crowded food court. Especially when I'm starving.
Sukoi is at Bon Marche on Prachaniwet 1. It's situated on the small soi that runs down the side of the lake, next to the equally cool salad and organic vegetable restaurant and just across from the popular Cafe au Lac coffee house.