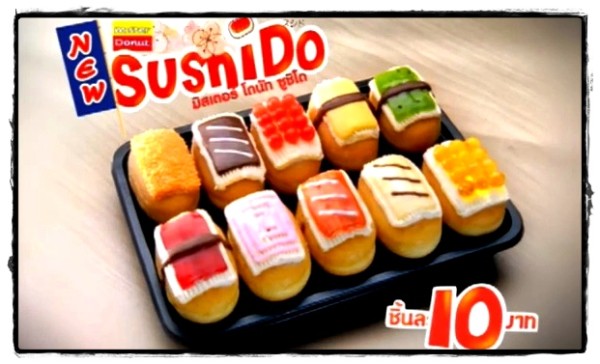 For years, the Bangkok-based Thai donut chain, Mister Donut, has been serving what they call 'Sushido Delight'. Small sushi-shaped donuts, decorated with colored icing and sugar baubles to make them look just like Japanese sushi, these tiny donuts have been a favorite of Thais for years and are bought individually or in sets of 10 — or more.
It's only recently, however, that Japanese tourists to Thailand have noticed Mister Donut's 'sushi donuts' and they are going wild for them – even standing in long lines to buy them as well as take photographs of them for their Instagram accounts .
If you'd like to try sushi donuts but aren't familiar with Mister Donut's 'Sushido Delight' and are a little worried about the flavors, don't be. There isn't any funky fish flavor here, just a typical sweet donut taste flavored with Thai fruit jelly fillings like lychee and passion fruit, then topped off with colored icing and decorations.
They're actually quite delicious, as this writer can attest to having eaten dozens of them over the years.
The other attraction to Mister Donuts 'sushi donuts', of course, is the inexpensive price. Each donut is just 10 baht, or 33 cents, so you can grab two or three for a tasty snack or a delicious dessert and don't have to worry about the cost.
Mister Donut stores are all over Bangkok, with one in just about every shopping mall as well as stand-alone stores throughout the city. If you read Thai, you can find out more about Mister Donut and their donuts on their website.
The next time you're in Bangkok and want to try a sweet treat that's a little more unusual, why not head to a Mister Donut store and grab a pack of 'Sushido Delight', they really are yummy.