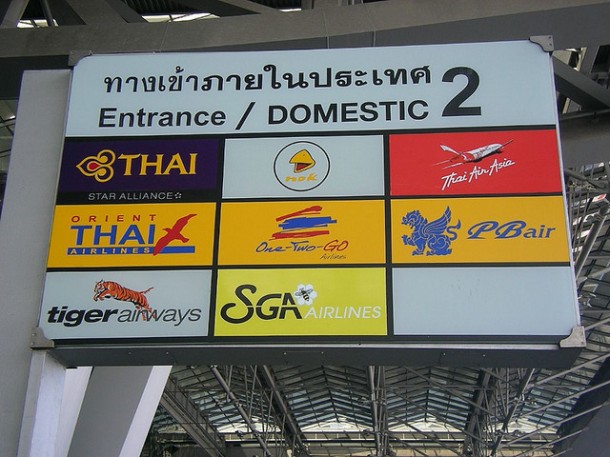 Thailand gets more than 16.5 million tourists arriving on its shores every year, and most of them fly into either Bangkok's Suvarnabhumi Airport or Chiang Mai International Airport in the north of the country. For people traveling to the south of Thailand, Suvarnabhumi in Bangkok is usually the choice, as it makes little sense to fly north into Chiang Mai and then fly again all the way south. But for people who want to see both Bangkok and Chiang Mai, which is millions of people every year, which airport makes sense to fly into and why? With pros and cons for both, here's what you need to consider before booking your flight to Thailand.
Which Country is Your Departure From? – Whether you choose Suvarnabhumi Airport or Chiang Mai International Airport has a lot to do with the country you'll be departing from. While Suvarnabhumi Airport sees flights from almost 100 airlines, Chiang Mai has only 15 airlines flying into it.
Most flights into Chiang Mai are either domestic flights by airlines such as Thai Air, Nok Air and Thai Airways or international flights from other Asian countries – like Air Asia (Malaysia), Korean Air, China Airlines (Taiwan) and Silk Air (Singapore). So, if you're flying from one of seven Asian countries, (Malaysia, Korea, Taiwan, Singapore, China, Myanmar and Laos, you do often have the choice of flying into Chiang Mai. From anywhere else, your flight will land in Bangkok at Suvarnabhumi, with then the option of taking an internal flight up to Chiang Mai.
Speed of Immigration – If it doesn't matter whether you end up in Chiang Mai or Bangkok first, and are just looking for fast immigration, Chiang Mai International Airport wins hands down.
Bangkok's Suvarnabhumi Immigration department is absolutely abysmal. So bad in fact, they've been running an 'Airport of Smiles' campaign for the better part of a year, to try to get immigration officials to be more welcoming, smile more and be more efficient. Let me tell you, it's not working.
Massive lines waiting to get through immigration at Suvarnabhumi are common. The last three times I flew in or out of Bangkok, I waited for over 30 minutes just to get through immigration to be allowed out of the country and almost an hour in two cases just to be allowed back in.
Chiang Mai International Airport on the other hand has lovely immigration staff who are pleasant, welcoming and get you through immigration efficiently in no time flat. If time was a factor, I'd choose Chiang Mai International Airport in a heart beat before I would ever consider flying through Suvarnabhumi.
Convenience of Airport to City – With Bangkok's horrendous traffic, it can take an inordinate amount of time to get into Bangkok from Suvarnabhumi Airport if you get stuck in a traffic jam. Suvarnabhumi Airport is around a 20-30 minute drive from downtown Bangkok, depending where in the city you're heading. But in early morning or late afternoon/evening rush hour, that 30 minute drive can turn into an hour and a half or longer.
Of course, Bangkok now has a high-speed train that travels from a convenient sky train station close to downtown right to Suvarnabhumi Airport. It's not cheap though (almost the same price as a taxi) and after you've lugged your baggage through outdoor train transfer areas in Bangkok's 95 degree heat, climbed stairs because there aren't any working escalators or convenient lifts and still haven't been able to check in your luggage anywhere (check-in at the train still isn't working correctly), you'll think twice about taking it again.
Chiang Mai International Airport on the other hand is 5-10 minutes' drive from most major areas of the city. It's also a pleasant drive, with little traffic most of the time (rush hour, sure there's more) and, as taxi drivers can often drive through small lanes and sois on their way to your hotel, you get to see some of authentic Thailand as well instead of stuck on Bangkok's dreary freeways.
Taxis, Buses and Other Public Transportation – Both airports have any type of private or public transportation you'd need – taxis, limos, buses, etc at Chiang Mai and the same at Suvarnabhumi with the addition of the direct rail link.
However, be warned Suvarnabhumi Airport has a bad reputation for taxi touts and taxi drivers trying to rip off their customers. Chiang Mai doesn't as much.
For me, it's always a more pleasant experience taking a taxi from Chiang Mai airport than it is from Suvarnabhumi, where I often feel like I'm going to be scammed before I even get in the taxi, and I live in Bangkok and speak Thai. Imagine how the tourist that doesn't feels.
Business Services, Restaurants, Stores, Duty-Free etc – Of course, Suvarnabhumi Airport wins this one. With over 250 restaurants, cafes, shops, convenience stores, duty-free outlets etc. there's a huge choice of food, shopping and duty-free. Prices aren't cheap, but if you want it, it's there.
Chiang Mai has only a limited number of cafes, stores, restaurants and duty-free options but prices are cheaper and it's a little more relaxing to look around, without the hectic feeling of Suvarnabhumi.
Both airports have pros and cons with, in my opinion, Chiang Mai International Airport being the better one simply because of smaller size, friendlier staff, cheaper food and convenience getting there.  Suvarnabhumi Airport is a typical international airport – busy, expensive, frustrating to get public transportation and the chance of getting stuck in awful traffic.
Whether you choose Chiang Mai or Bangkok depends on where you're traveling to, which airline you're arriving on and what your real needs are. Only you can decide that for yourself.
Photo copyright – Airline signs at Suvarnabhumi Airport – by Jetalone, Creative Commons License