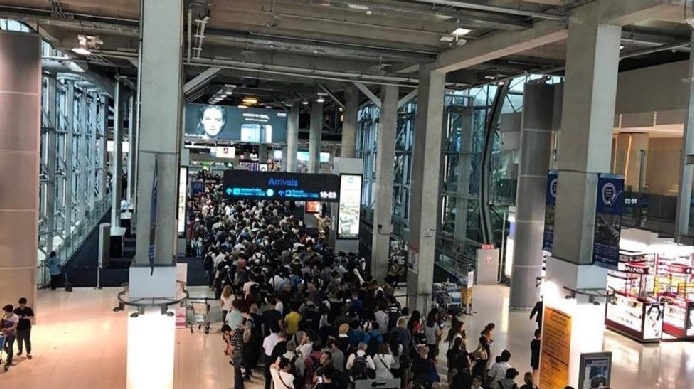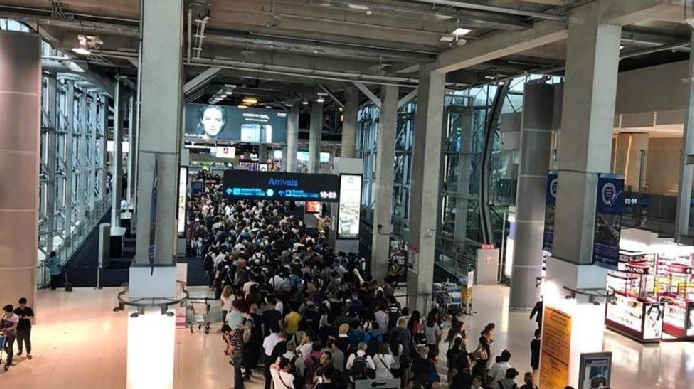 Suvarnabhumi Immigration insists all desks were staffed when 4,600 people stood in line
Anyone who has traveled through Bangkok's Suvarnabhumi Airport knows Thai Immigration there is terrible.
Rude, unhelpful and pathetically slow, even on a good day going through Immigration at Suvarnabhumi is a trial. Particularly when half of the desks are unmanned, which is often the case.
So it is laughable to hear Suvarnabhumi Immigration now insisting all the desks were staffed when more than 4,200 people stood in line a the airport on Wednesday, with lines so bad both Thais and non-Thais alike were sharing photographs on social media.
According to the statement from Thai Immigration, the long lines at Suvarnabhumi occurred between 3pm and 4pm on Wednesday when 20 planes arrived at the same time. As Immigration at Suvarnabhumi only has capacity for 3,000 people, they were at a bit of a loss.
Insanely long immigration queues at Suvarnabhumi this afternoon. Thailand pursuit of ever increasing tourist numbers pic.twitter.com/NErrd3jYKk

— Jerome Taylor (@JeromeTaylor) August 9, 2017
My friend just posted this photo on his Fb. Immigration ques at Suvarnnabhumi Airport at 4pm. pic.twitter.com/dRHj6u4gMw

— Choltanutkun (@issheonanything) August 9, 2017
Thai Immigration did insist, however, that they managed to clear the lines in an hour. A statement that is beyond fantasy, as I have stood in lines at Suvarnabhumi a fraction of the length of this one and it has taken me over an hour to get through Immigration and on to collect my suitcase.
Related: How long does it take to get through Thai Immigration at Suvarnabhumi? A heck of a long time
Of course, this being Thailand, it is more than likely many of Suvarnabhumi's Immigration staff have now been transferred to Don Mueang after that Bangkok airport had lines that took over 4 1/2 hours to clear Immigration last week.
Because that is usually the way Thai Immigration deals with problems — transfers staff, leaving other places to now suffer the same kind of consequences the first place was suffering before it got extra staff.
Welcome to Thailand. The sad thing is, if this is your first experience in the Land of Smiles, chances are you won't be coming back.