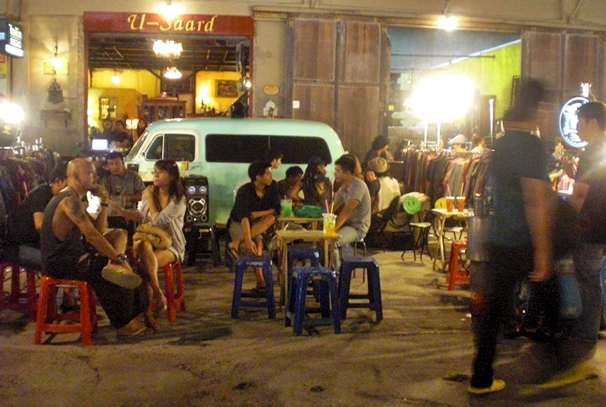 One thing I love about living in Bangkok, Thailand are the new, cool markets constantly cropping up all around the city. One of the latest additions to Bangkok's market scene is the new 'Talad Rot Fai', or in English 'Train Market', that opened late last year near Bangkok's famous Chatuchak Weekend Market. Talad Rot Fai is just about the coolest place to shop in Bangkok, particularly if you love foraging through weird antiques, used clothing, classic records and old cars to look for something unusual .
Where is Talad Rot Fai? – Just a couple of minutes walk from Bangkok's Chatuchak Weekend Market, Talad Rot Fai is right next to the train tracks (hence the name), just off Kampaeng Phet Road. The easiest way to get to it is take the underground train (MRT) to Kampaeng Phet then head to Talad Aw Taw Kaw (the farmer's market). It's just across the street from here .
What is Talad Rot Fai?– One in an ever growing group of amazingly cool night markets, Talad Rot Fai is a night market mainly populated by teenage, university student and young sellers. They come from all over Bangkok, set up small stalls, blankets on the ground or even have shops in VW Vans and old trucks and sell everything from funky Thai antiques, old toys (both Thai and Western), and used clothing and shoes to hand-made craft products, old books and records. There are also several street-side bars set up and, of course, the usual mix of Thai food stalls selling delicious traditional Thai food at dirt cheap prices.
The backdrop of the whole market is a disused railway station, and the old warehouse next to it. In the warehouse, you'll find an incredibly cool antique shop, owned by one of the guys responsible for setting up this whole funky, hip, and trendy night market .
What to Buy at Talad Rot Fai? – When you first arrive, it's a bit overpowering. Packed with people, mostly young and hip, every stall is crammed with such incredible amounts of goodies, it took me a good 10 minutes to tear myself away from just the first one.
Look for old toys from the 1970s and 80s (remember the old red Viewmaster viewers? There are hundreds of these ), empty tins of 1960s Thai cookies, old phones, second-hand t shirts, new t shirts, fashion jewelry hand-made by the sellers themselves, artwork sold by the artists, sunglasses, hand-made boxes, cell phone accessories, car and motorbike parts, classic movie posters, music t shirts and memorabilia – so much stuff, I stopped buying only when I was so laden down with things I couldn't carry any more.
Prices too are unbelievably cheap. With hand-painted t shirts selling for 150 baht ($4.75), old records and books for just a couple of dollars, movie posters for 200 baht ($6.50) and sunglasses as cheap as 100 baht ($3).
Don't miss trying all of the food at Talad Rot Fai too. Just like everywhere in Thailand, the minute a few people get together, the food stalls begin to arrive and, at Talad Rot Fai, they have some really delicious things. We ate some excellent Pad Thai, got a few sausages on sticks with a spicy chili sauce, a bag of chestnuts and some sweet Thai desserts to finish the meal off.
Finally, grab a beer from one of the street bars and head to the disused railway carriage. Set up by the State Railway of Thailand, you can pull yourself aboard, grab a seat and enjoy your beer while looking out of the window and watching the crowds go by. There was even a guy playing folk music on a guitar the last time we went. I don't think I've had a more unique moment in Thailand .
Talad Rot Fai is only a weekend night market, so is open Saturday and Sunday nights from 5pm to 1am. Best time to go is after 8pm, when it's completely dark and the crowds begin to arrive. Plus, if you stay till it ends, you can easily hail a passing taxi on Kampaeng Phet Road to take you home.