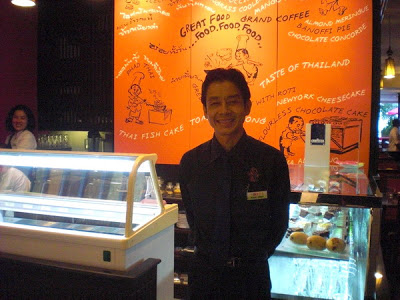 I have been reading about Taling Pling for months now with rave reviews of this traditional Thai restaurant popping up all over the net so, last week decided it was about time I ate there.
Located in Bangkok, Thailand Taling Pling has a couple of branches but my Thai friend and I ate at the one at Central World Plaza after stumbling across it while in search of food.  It is a beautiful looking restaurant, gorgeously designed, and the staff is lovely (especially the maitre d'), but overall I have to see it was a bit of a disappointment.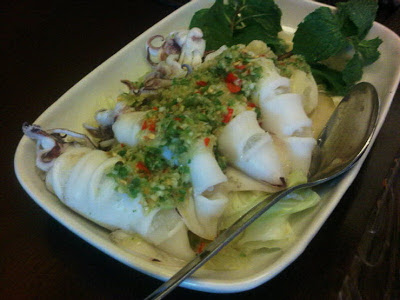 The menu at Taling Pling is large, it has photographs of everything they serve (perfect for an ignoramus like me, who sometimes forgets what each individual Thai dish is called) and every Thai dish you have heard of is on it. Great right?
Not so much.
As my Thai friend pointed out, a sure sign they are trying to overcharge you is that the photographs and description of each dish is on one page, with the actual prices appearing several pages later.
This bore out when the bill arrived – as it was 990 baht ($33.50) for four teeny tiny dishes, two bowls of rice and two fruit juices – and when I say "teeny tiny", yep, compared to portions at most Thai restaurants, those portions were small.
Overall, the food was quite nice. But just typical Thai food, so nothing to write home about. The spicy squid was excellent, and my friend enjoyed the catfish but, with two of the three dishes arriving at the table freezing cold (I hate cold vegetables in oyster sauce, yuk!), and as the restaurant was half empty, it was difficult to understand why.
With authentic Thai food available in just about every restaurant in Bangkok, and at much cheaper prices, to pay $33.50 for nothing more than typical Thai dishes with very small portions was a bit steep.
As lovely as the Taling Pling restaurant design is and as delightful as the staff, my friend and I both agreed we probably wouldn't eat there again.