I have been wanting to try Ta Siam, a famous authentic Thai boat noodles restaurant, since I moved to Bangkok, Thailand 12 years ago. With literally tens of thousands of excellent restaurants to choose from in Bangkok though, Ta Siam (pronounced "Tah-see-am) always seemed to go by the wayside.
But, recently, a Thai friend and I decided we had to stop walking by the restaurant and, instead, walk on in. After a lovely meal at a cheap price, Ta Siam now definitely gets a thumbs up from me.
The Location of Ta Siam – With several Ta Siam branches in Bangkok, the one at Central World Plaza has the best location.
Situated in Central World Plaza mall, the largest mall in south east Asia, and a two-minute walk from the sky train, it's easy to get to. The restaurant itself is located on the 6th floor in Section B of the mall, surrounded by other restaurants and cafes.
Ta Siam might be difficult to find for westerners, however, as the name is only written in Thai. If you are unsure if you have the correct place then, simply look for chefs standing in a huge boat in the window cooking, and that is Ta Siam.
The Atmosphere at Ta Siam – Ta Siam's atmosphere is funky and cool, even though it is based on an old-fashioned premise – serving boat noodles. Boat noodles ('gweteeow reua' in Thai) are so-called because they used to be sold from boats on Bangkok's canals, but are now mostly sold in restaurants.
The owners of this restaurant chain have used the boat concept to design their restaurants around the bow of a huge wooden boat that serves as the kitchen for the restaurants chefs.  That makes arriving quite exciting.
The rest of the restaurant is also large, light and colorful with bright red booths and comfy chairs.
The Staff – Helpful, funny and efficient, that describes the staff at this Bangkok restaurant. When I couldn't decide on what to order, as the menu is large, the waitress just laughed along with me and teased my friend and I about 'westerners not understanding Thai food'.
Being used to Thai waitresses who are sweet but usually have little personality, it was fun to have a waitress who not only had the patience to stand while I figured out what I wanted, but was entertaining too. Plus, our food arrived quickly and was exactly what we ordered; which is not always the norm in Bangkok.
~อยากกินอีกแว้ววว >< @cherichyuuuuu #TaSiam pic.twitter.com/d5x9os37kZ

— 🍭🍫🍰 케는 🍩🍮🍧 (@JigKae) September 26, 2014
The Food at Ta Siam – My friend ordered the traditional boat noodles (thick or thin noodles in a strongly flavored broth with lots of pork blood, meat and spices). I decided to try a fried noodle dish that was stir fried with shrimp, peppers and vegetables. I was told it was spicy but not too spicy; worth a try I thought.
The food arrived piping hot within five minutes and my friend immediately pronounced her boat noodles "perfect". I tasted the broth and it was superb – intensely flavored, slightly sweet, and loaded with pork and pork blood.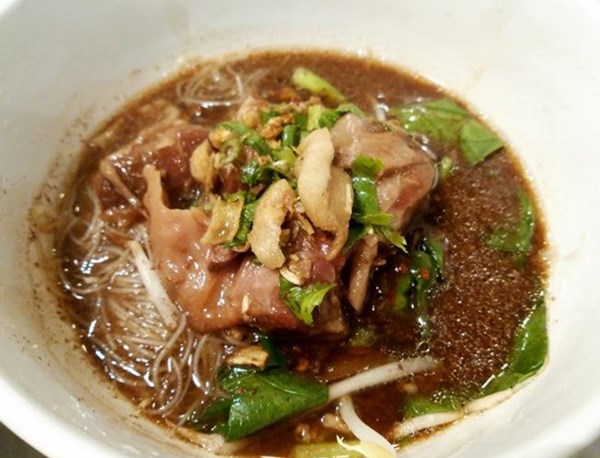 My fried noodle dish was also incredibly flavorful. Perfectly cooked thick noodles, fresh shrimp, and spicy enough to enjoy but not so much that my head felt like it was going to come off.
Our only disappointment was the appetizer we ordered. Thai chicken wings are normally delicious, but this version had a batter that was too light with a taste that was nothing but oil. My friend and I delicately nibbled one piece each, slowly put it aside and decided eating the rest of the plate wasn't worth wasting the calories.
If you eat at Ta Siam then, I recommend avoiding the chicken wings and sticking with one of their noodle dishes. That, after all, is what they are famous for.
Prices at Ta Siam – For an appetizer, boat noodles, fried noodles and two enormous glasses of iced Thai tea, the total bill was only 300 baht ($9.60). At only $4.90 each for a large and quite excellent lunch, it is an exceptional deal.
In fact, my only criticism about Ta Siam was the menu. It is a double-sided board menu with several delicious-looking photos. The problem comes when, if you are over the age of 30, you try to read it.
The type is so small, even holding it at arm's length, I couldn't read the name of one dish. My Thai friend had to read the dishes to me and advise me on what to order. A little annoying, as I felt I missed several great dishes simply because I couldn't read them on the menu.
Ta Siam is located at Central World Plaza on the 6th floor. The easiest way to get there is go to Chidlom BTS sky train and walk on the skybridge to Central World Plaza mall.