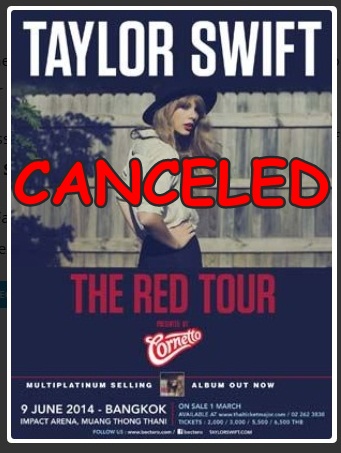 BREAKING NEWS, Thailand.  The American singer, Taylor Swift, has just announced her upcoming The Red Tour Concert has been canceled in Bangkok due to the Thai military coup. The concert would have been Taylor Swift's first ever live concert in the Thai capital and was to be held on 9th June.
In a tweet about the canceled Bangkok concert, Swift simply said "I'm sending my love to the fans in Thailand. I'm so sad about the concert being canceled."
Remember, if you support democracy in Thailand, make sure you head over to Swift's Twitter page and thank her for the cancellation. Several other people already have.
Meanwhile, if you have tickets for the sold-out Taylor Swift concert, this is what Thai Ticket Major is saying and, yes, you can get a full refund:
Ticket holders are able to refund their tickets for this special event, during from May 29th, 2014 at 10.00 hrs. until June 30th, 2014. For further information, please contact Thaiticketmajor call center at 02 262 3838