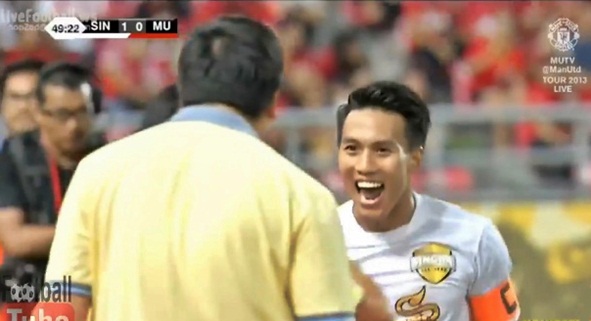 Teeratep Winothai wins for Singha All-Star XI against Manchester United
A football 'friendly' game in Bangkok, Thailand this weekend supposed to show off Manchester United's amazing skills went a little bit wrong when Thailand's Singha All-Star XI beat Manchester United 1-0.
To say it was a shock is an understatement, as Thailand isn't known for having particularly good football teams. Singha All-Star XI, of course, was ecstatic as was Teeratep Winothai who scored the winning goal. Thai fans, who are resoundingly Manchester United fans, not so much.
The game took place in Bangkok on Saturday at the massive Rajamangala Stadium. You could tell which team the Thais were supporting too, as there was hardly a shirt in the stadium that wasn't red and didn't sport an Aon logo, and the shouts of "Manchester" were deafening.
Unfortunately for Manchester United and its new manager, David Moyes, it didn't matter how much fans screamed "Manchester", the British team was still soundly, and embarrassingly, beaten by Singha All-Star XI, with the one and only goal of the game scored by Teeratep Winothai.
He is now one of the most well-known and biggest stars in Thailand. Overnight.
Let's face it, though, it's not like you can blame manager David Moyes for Manchester United's embarrassing defeat against Singha All-Star XI.
After all, Moyes may be United's manager but he has been in that spot for all of 10 minutes since Alex Ferguson left the club after 27 years as manager a few weeks ago.
Still, he is hardly likely to forget the Manchester United vs Singha All-Star XI game. His first international game and it ended up like that.
As for me,  I am actually originally from a town quite close to Manchester and have supported Manchester United most of my life. But……I think it was fabulous to see the Thai team do so well and was a wonderful boost to Thai football and Thai footballers.
Good for them!
As for Teeratep Winothai — he did actually spend some of his early career playing for both Everton and Crystal Palace. Looks like he learned a thing or two and bet he is now thrilled to do what he did on his home turf.
Good for him too!