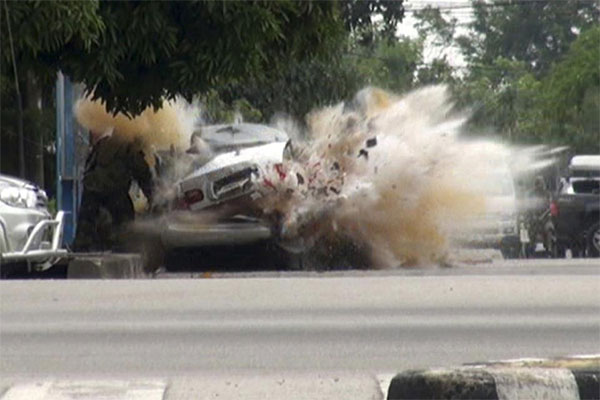 Thailand's problem with Muslim-separatist terrorists in the southern part of the country just got worse when, late on Friday night, three bombs planted on a motorbike and in two cars in Narathiwa blew up killing a Malaysian tourist and two Thais.
The blast also badly injured a large number of passer-bys.  Most of the injuries were sustained at a food court and at various shopping districts around the city. A high-ranking police officer was also seriously injured.
Thailand's terrorism problem has been in existence for more than a decade but, as every year goes by, it seems to worsen.
Three people were killed and 38 others injured, including tourists, on New Year's Eve, 2006, when bombs went off  in nine separate areas of Bangkok right before New Year's celebrations were to begin.
It is probably not far-fetched at this point then to believe, as these terrorist attacks worsen, Thailand could eventually see a terrorist bombing in a tourist area frequented by westerners. Similar to the one that occurred in Bali, Indonesia in 2002.
The British Embassy and many others in Thailand currently say Thailand has a "high threat of terrorism" and have travel warnings out for many areas of the country, including areas of southern Thailand.
Read the British Embassy's travel warnings site for more information, particularly if you are concerned about your personal safety in Thailand.