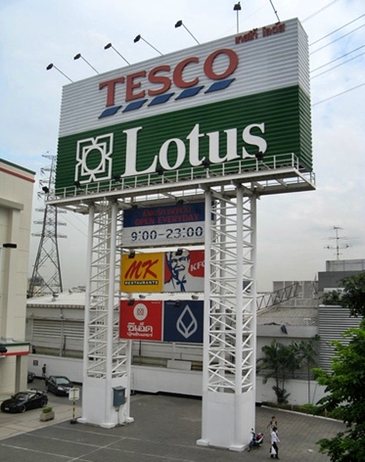 Tesco Lotus staying in Thailand — no plans to leave
It seems British supermarket chain Tesco Lotus will be staying in Thailand after all, at least if a source talking to the Bangkok Post is to be believed. Which, frankly, does surprise me a little bit as I've been noticing more and more lately how much quieter my local Tesco Lotus is when it comes to crowds of shoppers, with many people in my neighborhood seeming to prefer shopping at Tops than Lotus.
That being said, I do hope Tesco Lotus stays in Thailand. They have a huge selection of products, they have started to sell a lot more imported products than they used to do and, on many items, they are still cheaper than Tops.
They also often have excellent parking facilities, for those who prefer to drive to shop and, in my experience at least, their staff is lovely.
In fact, I still shop at Tesco Lotus more than I do anywhere else, simply because I can usually get what I need at the lowest available price.
Tesco Lotus Club Card saves a lot of money
Which is why I'm happy that, according to the Post story at least, even though Lotus just sold its South Korean operation Homeplus this week, it has no such plans to sell off any of its business in Thailand.
The source told the Post, "I don't think the Thai operation will be sold, as it is healthy and profitable with a lot of market potential and expansion."
Tesco Lotus themselves have also said they will be expanding their operations in Thailand, with more supermarkets and more hypermarkets planned in the next year, as well as more of the extremely popular Tesco Express stores to be opened nationwide.
My only complaint about Tesco in Bangkok? I wish they'd keep up on stocking their shelves a little better than they do, as I often go only to discover several of the things I need (Tesco brand of tissues and tuna, fresh vegetables, imported German pretzels, Spanish jams and sometimes even bread) are sometimes out of stock.
And, when that happens, Tesco Lotus loses some of my business as I'm forced to go across the street to Tops to buy them instead. Whether I want to or not.