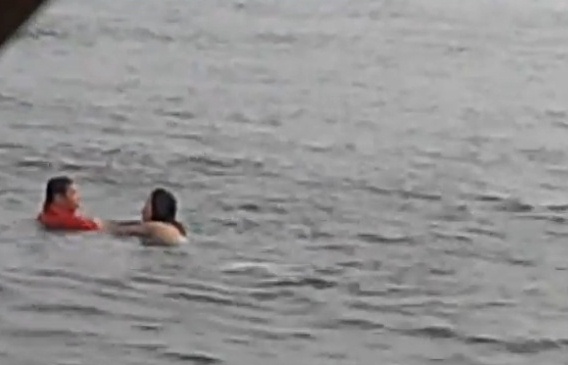 There's a new Thai video up on YouTube that's about to go viral. It shows a Thai Airways engineer rescuing a woman who was drowning in the Chao Praya River in Bangkok. The man, named by a Facebook poster as Thai Airways engineer, Phitsanu Hongkamsang, jumped into the Chao Praya clutching a life lifebuoy and swam out to the woman to save her.
The story apparently unfolded when, according to witnesses, the woman jumped into the Chao Praya River.
Nothing has been said as yet regarding the woman wanting to commit suicide but it seems that could be likely. Regardless, Phitsanu Hongkamsang, saw the woman in the water struggling to keep her head above water and jumped in after her.
The video shows Phitsanu managing to get the lifebuoy to the woman who immediately clung to it. But, the currents in the Chao Praya River are incredibly strong and, almost immediately, Phitsanu got into difficulties himself with his head submerging under the water a few times.
Luckily the woman, kept her head and immediately paddled the lifebuoy over to Phitsanu who managed to grab hold of it. According to netizens, both of them were eventually pulled from the water.
It's odd, as I hear people say all the time that Thais are selfish and wrapped up in their own worlds. While I do see that sometimes during my daily life in Bangkok, I often see Thais helping other people as well as can quite easily be seen on this video where Phitsanu Hongkamsang literally put his own life in danger to save someone else's.
Good for Phitsanu, a true hero. Thai Airways should be proud.
And, also to the woman who, if she was trying to commit suicide, obviously realized quite quickly she didn't really want to and let that urge to hold onto her life not only take over but then used it to save someone else's.
All in all, a very uplifting video.
Special Note — I do have to say a word to those people in the video comments on YouTube who are criticizing people on the boat for not doing more. In my experience, many many Thais cannot swim so it's often smarter to let those who can handle the situation than cause more problems by getting into danger yourself.
Besides, as is evidenced by the fact that both survived, when help was needed it arrived.