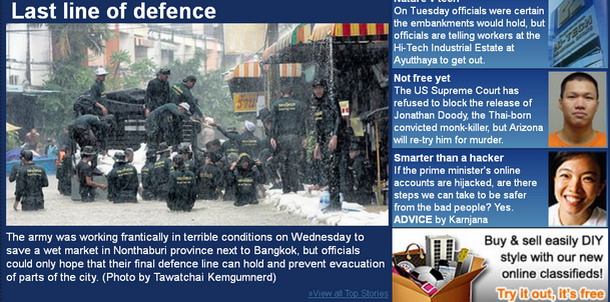 Up until recently, Thailand's military has had a bad reputation.
Decades of more coups than about 10 countries put together, shooting of unarmed citizens in Bangkok's anti-government red shirt protests last year, a general public opinion that you can't trust high-up military officials, and on and on.
But, during these 2011 Bangkok and Thailand floods, the Thai army has been tirelessly working to save property, protect vital roads and supplies, and save people, and the Thai public is extremely grateful.
Such a good job has the Thai army done in fact, a recent poll in Bangkok had four out of five Bangkok residents saying the Thai army was the best when it came to the people you want to rescue you.
The Suan Dusit poll also had the Thai army as the most dependable people during Bangkok's floods, as government agencies like FROC let them down again and again.
In other questions, 7 out of 10 respondents also said they had no intention of leaving their homes if they flooded, as they felt they could survive quite well thank you very much (Bangkok's governor is hot on the "evacuation order" but most are ignoring him, seeing it as an overreaction from a man who seems to be a little bit overwhelmed).
Honestly, it is nice to see the Thai army getting such praise.
Many of these men and women have been working non-stop for over a month in and near Bangkok, and even longer out in the provinces.
If it wasn't for them, Thailand's flooding situation would be a lot worse than it already is. In our opinion, the whole lot of them deserve a medal.