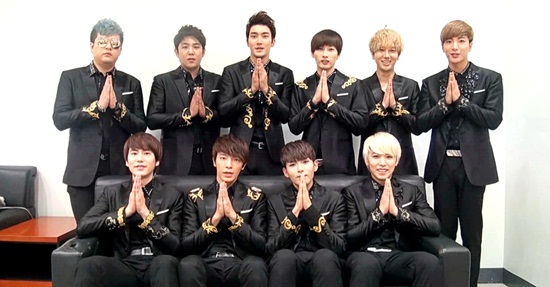 When you see how Thais treat popular Korean boy band Super Junior, you could never say Thai pop fans, especially Thai girls, don't just love their idols.
Super Junior visited Thailand this weekend for the M Countdown Smile – Thailand concert at Rajamangala National Stadium, and not only were they mobbed everywhere they went in the Land of Smiles, including their hotel and various Bangkok shopping centers, but an entire army of Thai girls even went to Suvarnabhumi Airport to see the K-pop band off.
According to Suvarnabhumi Airport officials, a few thousand fans showed up at the airport to scream a little bit and wave "Bye Bye".
So many were there, in fact, you'd think officials would have been overwhelmed.
Not so. They are used to the Super Junior frenzy now, so every time the boys arrive or depart Suvarnabhumi, they're already well prepared. They easily managed to get all the screaming fans organized so the boys could walk right through them and off onto the plane.
Super Junior must have just loved it. And fans, of course, are now talking about just how amazing the M Countdown Smile concert was.