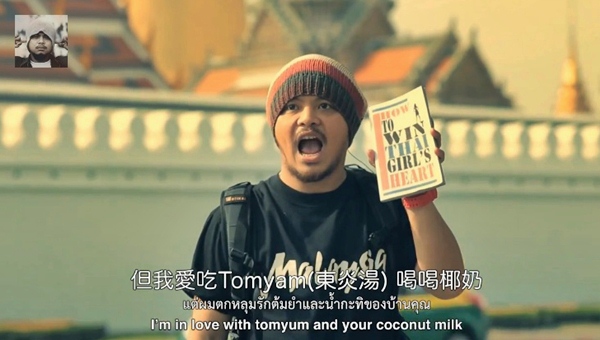 There's an incredibly cute and catchy song doing the rounds in Thailand at the moment (three Thai friends have e-mailed it to me just today!). It's a song by a Malaysian singer called Wee Meng Chee, otherwise known as Namewee called "Thai Love Song" and it's already going viral on YouTube.

Sung in Thai, Malay and Chinese (yep, all together), Thai Love Song tells the story of Namewee, who comes to Thailand on a holiday from Malaysia with his friend. Standing outside the Grand Palace in Bangkok he sees the most beautiful Thai girl he has ever seen and immediately falls in love. What follows is Namewee traveling around Bangkok trying to capture the girl of his heart, a lesson in Buddhism and………… a surprise ending.
The girl in the video, by the way, is Chayanuj Boontanapibul. She's a VJ, VJ Ink on Channel V, and has just appeared in her first movie — Rak Wei Heil.
Namewee's video was filmed in various places in Bangkok, outside the Grand Palace, near Khao San Road and even at Democracy Monument. It also incorporates a lot about Thai culture, including how to capture a Thai girl's heart, Thailand's national flower — the Rajapruek — and, of course, Thai monks.
Watch it below — it's very cute and a fun song. I love it.