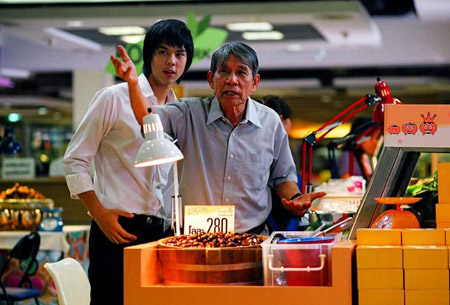 If you're looking for a Thai movie that's different from the usual teenage fare, don't miss "Top Secret" (Wai Roon Pun Lan) the true story (well, it's a bit fictionalized) of teenager Aitthipat "Top" Kulapongvanich, the young Thai guy who invented Thailand's biggest selling seaweed snack "Tao Kae Noi".
I became interested in "Top Secret" as I love stories about business successes but, even more importantly than that, I've probably eaten enough Tao Kae Noi to fill a bathtub, so I wanted to learn about the story behind it.  Tao Kae Noi is the first Thai seaweed snack I ever bought and, since trying several other brands, it's the one I always buy before any other as it's incredibly tasty and comes in a bunch of flavors.
The movie "Top Secret" tells the story of how "Top" manages to become a Thai billionaire by the age of 27, even though numerous business ventures he tried, before he thought about seaweed snacks, failed. It's somewhat of a coming-of-age story as it's not only about Top's business problems but also about how he's failing his family with his relentess pursuit, and subsequent failure, of his business dream. Of course, as we all know, the movie ends rather well. So, if you enjoy an ultimately feel-good movie, you'll love "Top Secret".
The main lead of "Top Secret" is Patchara "Peach" Chirathivat, who's not exactly your typical starving artist as he's a member of the family that owns the massive Central Group in Thailand. But, he's a wonderful actor and does a superb job with the role of Top.
The director of "Top Secret" is Songyos Sukmakana, the incredibly talented director behind the Thai blockbuster, "Fan Chan" so, no, it's not surprising "Top Secret" is so good.
"Top Secret" opened in Thai movie theaters on October 20th. Unfortunately, it hasn't done as well as it might have, simply because a quarter of Bangkok is currently under flood waters and many shopping malls are closed, so seeing new releases at a movie theater can be difficult. That's just one of many reasons why you should see it if you can.