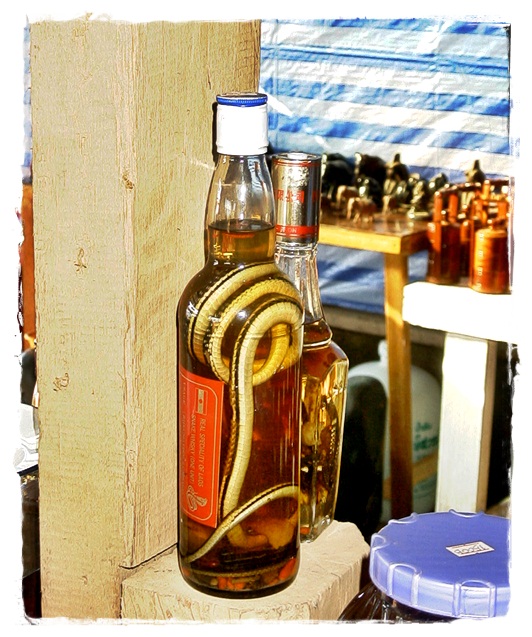 Thai snake whiskey is believed to be an aphrodisiac
I was going through some old photographs today from my first trip to Thailand, before I ever moved here, and came across this. It's a photograph my father took of a bottle of Thai snake whiskey — on sale in a shop in northern Thailand. Gruesome, eh?
And, no, I have no idea what type of snake it is. Grass snake? Rat snake? Viper?
You see Thai snake whiskey quite often when you get outside Bangkok as, not only is it sold as a souvenir for tourists, but some Thais also believe it has aphrodisiac qualities so they drink it if they want to feel more like 'a man'. Others think it's a good cure for a pulled muscle or general aches and pains.
Price of a bottle of Thai snake whiskey?
Depending on the type of snake and the age of the whiskey, a bottle of Thai snake whiskey will usually sell from around 300 baht up to 1,000 baht or more ($9.95 to around $31.50).
Thai snake whiskey is made, by the way, by infusing the snake in the bottle of whiskey for several months until, it is believed, all the necessary medicinal properties are soaked out of the snake and into the whiskey. It's then drunk.
From what Thais I know who have drunk it tell me, it has a much stronger and slightly odd taste than a typical Thai whiskey would and, the longer you leave it, of course, the stronger that taste gets.
That is also why some Thais buy the bottles and then hold onto them for a year or two as, once more 'mature', they can sell the snake whiskey for three, four or five times the price they paid as the person buying it believes the aphrodisiac or medicinal properties are just that bit more powerful.
Personally, the things give me the creeps but…..you might feel differently. And, they would definitely be a talking piece if you had one on your bar back home.