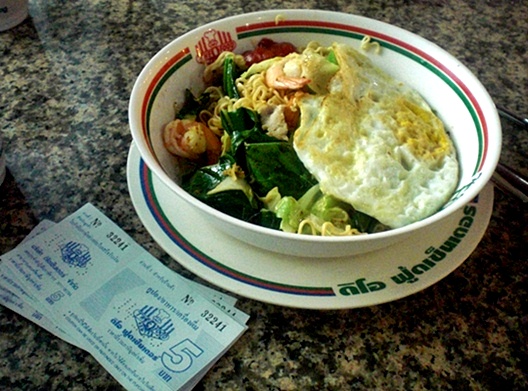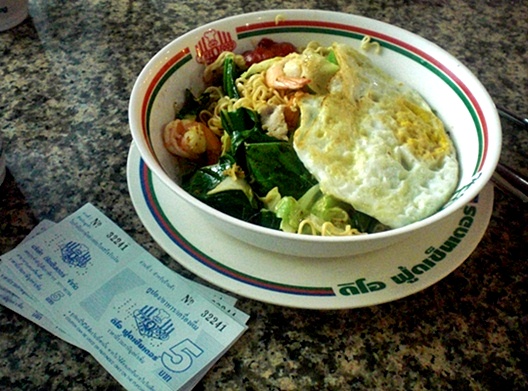 As part of my new 'Daily Photo' segment on Tasty Thailand, there's no way I could not include photos of food. After all, more than anything else, Thailand is known for its food. And that's why this amazingly delicious bowl of Thai-style seafood noodles is my 'Daily Photo' today.
I bought (and devoured) this bowl of Thai-style seafood noodles at an old-fashioned shopping mall in Chinatown, Bangkok last week. Known as The Old Siam Plaza, (or as Thais often call it "Deeow Siam"), this old-fashioned shopping mall is one of the coolest places to visit if you want to see how people lived, and shopped, in Bangkok more than 50 years ago.
In fact, it's more like a living breathing museum than it is a shopping center.
But, what's even more amazing about The Old Siam Plaza is the tiny antiquated food court on one of the upper floors. Hidden away in an enclosed area of the shopping mall, the food court offers delicious traditional Thai food at a very cheap price.
To get started, you buy a set of paper coupons (see the left hand side of the photograph) at the coupon booth. You then use these coupons to buy food. if, at the end of your meal, however, you don't spend all your money, the coupon booth will give you a full refund of what's left. It's an easy way to buy food and a great way to keep an eye on how much you're spending — although at this food court, you'd be hard pressed to spend more than a couple of dollars, the prices are so cheap.
The last time I was at The Old Siam Plaza food court I wasn't particularly hungry but the Thai friend I was with needed lunch. Then, my eyes suddenly alighted on a steaming dish of Thai-style seafood noodles and even my full stomach was sold.
These Thai-style seafood noodles are made with a packet of Mama Tom Yum noodles, which the seller briefly cooked in a huge pan of boiling water. She then added a rich, spicy soup, stir-fried vegetables, shrimp, squid, some fish fillet and a couple of mussels. I asked for the fried egg to be added on top and it was ready to eat.
Now, make sure you're sitting down, so you don't fall down, before I tell you the price of that huge bowl of seafood noodles. With lots of tasty, tasty seafood don't forget.
Total price? 50 baht or $1.66, and that included an extra 10 baht (33 cents) for the fried egg or it would have been even cheaper.
Yes, Thai-style seafood noodles in Bangkok are not only incredibly delicious, but they're also a satisfying and extremely affordable meal.