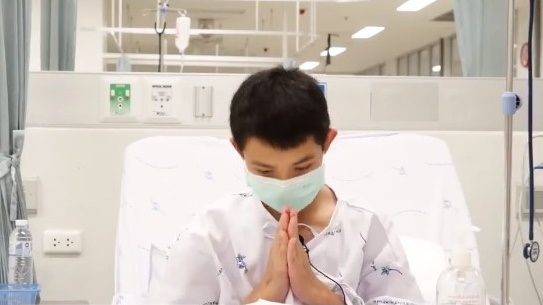 Thai 'Wild Boars' football team posts "Thank you" video
To show just how well the Thai boys and their football coach — the 'Wild Boars' — are doing since their rescue from Tham Luang cave in Chiang Rai province last weekend, the group has posted a Facebook video today from their hospital beds.
A video thanking rescuers for saving them all from the submerged cave, and also thanking everyone that supported them during the almost three weeks they were trapped in the cave.
The boys, aged from 11 years old to 16 years old, and their 25-year-old coach, Ekkapol Chanthawong, all gave personal messages to the rescuers.
They also talked about how they are all in good health now and mentioned the food they would like to eat once they are medically allowed to go back to eating normal food.
Watch the video below to hear the messages from each of them. They are in order of appearance:
Prachak Sutham (Note), 14 — gave his thanks.
Duangpet Promthep (Dom), 13 — he wants to eat stewed pork leg and rice.
Natthawut Thakamsai (Tle), 14 — he likes crispy fried pork with basil and rice.
Ekkarat Wongsukchan (Bew), 14 — said he was now in good health and gave his thanks.
Pipat Phothi (Nik), 15 — he wants both crispy fried pork and stewed red pork with rice.
Piraphat Sompiangchai (Night), 16 — he likes moo gata (Thai barbecue).
Phanumat Saengdee (Mix), 13 — gave his thanks.
Adul Sam-on (Dul), 14 — he wants to go to KFC. Adul is one of just two of the boys that said "Thank you" in English.
The youngest boy, Chanin Wibulrungruang (Titan), 11, wants to eat sushi.
Pornchai Kamluang (Tee), 16 — wants to eat crispy pork and fried rice.
Sompong Jaiwong (Pong), 13 — he likes curry basil rice with fried egg.
Mongkol Boonpiam (Mark) — he just had one word — steak.
Ekkapol Chanthawong, 25 — crispy pork and fried rice.
According to The Nation, doctors at the Chiangrai Prachanukroh Hospital, where the boys and their coach are currently recuperating from their ordeal, said today all of them should be discharged next Thursday.
The Wild Boars are currently still in hospital  several days after being rescued due to being on a course of antibiotics that needs to be taken to completion.
The antibiotics were prescribed by doctors to make sure they do not develop lung infections from their 18-day underground.