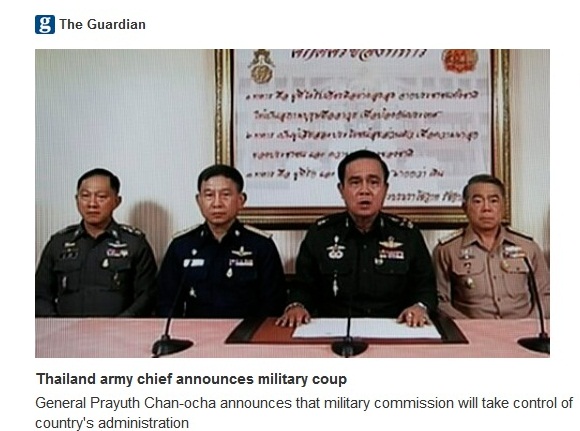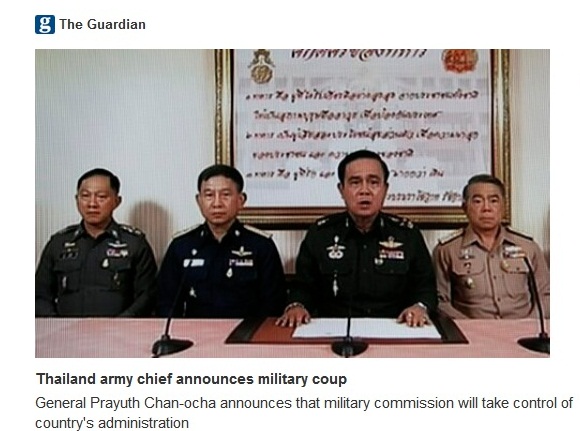 The Thai military has just announced an official military coup only two days after putting Thailand under martial law. The coup, they say, is "necessary" to maintain peace and order, and includes a 10pm to 5am curfew every day.
Thai TV and radio stations have also been told only 'military approved' programming is allowed.
The military coup in Thailand was announced after members of all parties involved in today's meetings between government and anti-government parties were taken by convoy, guarded by armored vehicles, to the main military barracks in Bangkok.
These include members of the current Pheu Thai government, the People's Democratic Reform Committee led by coup instigator Suthep Thaugsuban, and members of the United Front for Democracy against Dictatorship led by Jatuporn Prompan.
All I can say, this is now the 12th military coup Thailand has had, the second in the last eight years, and the second I have experienced.
Unlike the last one, which was a peaceful 'yellow ribbon' coup, this latest military coup in Thailand could be a much more dangerous animal.
After all, pro-government supporters, the Red Shirts, have said all along that if there is another military coup and the elected Pheu Thai government is thrown out, they will fight to get their government back.
If you have plans to visit Thailand in the near future, my recommendation is for you to watch the situation closely until this latest coup, and the events after it, play themselves out.