One thing that is surprising to some foreigners living in Thailand is how little the Thai government has compensated Thai businesses for the enormous loss of income they have experienced in the last 16 months.
Huge losses due to government lockdowns and other Covid-19-based restrictions.
Compare the Thai government response to the financial help given to businesses in the United States and Europe and, for a sizable number of Thais that own businesses, they did not get the help they would have had they been located in a more developed country.
In many instances, even if Thai businesses are eligible for government help, and many are not, they still do not get it.
Meanwhile, Thailand's economy continues to worsen.
With the latest government lockdown now in place in Bangkok and nine provinces until July 31st — a lockdown the government strangely insists is not a lockdown even though its characteristics fit the description — it is only a matter of time before the Thai economy disintegrates further, and even more Thai businesses suffer catastrophic economic loss and closure.
The economic crisis in Thailand is not just affecting businesses, of course, but also the millions of Thais that work in them.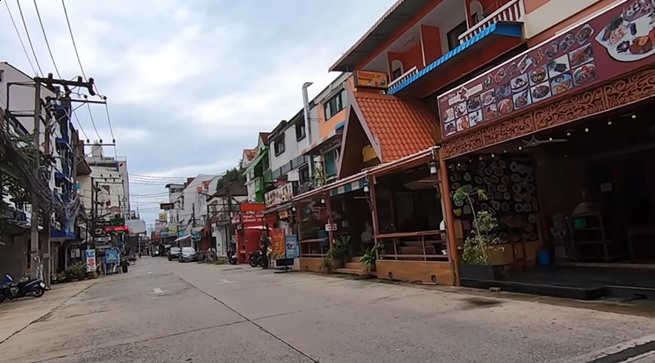 According to the IMF:
Low-skilled workers and informal and migrant workers have been hit hard, particularly women and the youth, who have suffered disproportionately from diminished employment opportunities in contact-intensive sectors bearing a significant burden of the layoffs observed in 2020.
In language a lay person can understand, that means poorly-educated, low-skilled workers, whether Thai or migrant, have seen their jobs disappear in far higher numbers than others in Thailand.
People working in the accommodation, food services, transport and entertainment industries have been the most severely affected.
In a Bangkok Post article today, operators of tour vans, a business highly-dependent on foreign tourists, are asking the government for more financial help.
Many van operators are saying they cannot even afford the monthly loan payments on their vans, let alone basic living expenses for their families. Government-mandated debt suspension would help but, so far, it has not arrived.
In the same newspaper last week, Thai economist Chartchai Parasuk's article 'Time to accept we can't beat Covid-19' criticizes the Thai government's current Covid-19 restrictions, and in its first sentence warns:
If the government does not wish to see a collapse of society, it must rethink its Covid-19 strategy.
Mr. Chartchai goes on to talk about the lockdowns and restrictions on restaurants the Thai government has mandated.
A few years from now scholars and critics might find out that nation-wide lockdowns and specific activity lockdowns, such as bans on indoor dining or closing down construction sites were not only ineffective measures but also unreasonably costly. A case in point is Thailand. On May 18, the government restricted in-restaurant dining to 25% of a restaurant's seating capacity hoping that it would lower daily infection rates.

On the contrary, daily infection cases rose from 3,500 per day to 5,000 per day.

Instead of re-examining the strategy, the government opted for a stricter measure of zero dining-in. The results? Daily infection cases rose further to 6,000 per day and, along the way, killed thousands of eatery establishments. Nice work?
To show just how bad the economic situation is in Thailand, one that is not generally being reported by the mainstream Thai press, you only have to watch videos like the one recently uploaded by Thailand-based YouTuber Jonny There is Something Happening. (Watch below)
A YouTuber that has supported his local Thai community — both with exposure on his YouTube channel and financially — for most of his years living in the Kingdom.
In his video, he interviews bar owners and some of the women working in the bars. All of whom say government lockdowns have destroyed their incomes and their businesses, and some of whom were on the street protesting the lack of government financial aid. (Article continues after video)
In more positive news today, however, the Thai Cabinet has just approved financial aid for operators and people affected by the latest lockdown measures now in effect in Greater Bangkok and the far South.
According to the Bangkok Post:
The aid is limited to those in nine sectors: construction; accommodation and food services; arts, entertainment and recreational activities; other services as stated by the Social Security Office; transportation and warehouses; wholesale and retail businesses; administration and service support; science and academic activities; and information and communications.
Thai nationals will receive no more than 10,000 baht each (approximately $326), while non-Thai nationals will be limited to 7,500 baht. The self-employed will receive 5,000 baht (approximately $163), if they are registered with the Social Security Office.
Business owners who hire workers under the social security system will be compensated 3,000 baht per employee, but the amount will be capped at 600,000 baht per business.
Utility subsidies for both businesses and individuals will also be granted for the next two months.
Whether the money promised actually gets to Thai businesses is yet to be seen.
But at least the Thai government now seems to be admitting the country's economic woes, mainly due to Covid-19 lockdowns and other Covid-related restrictions, are not going away any time soon.