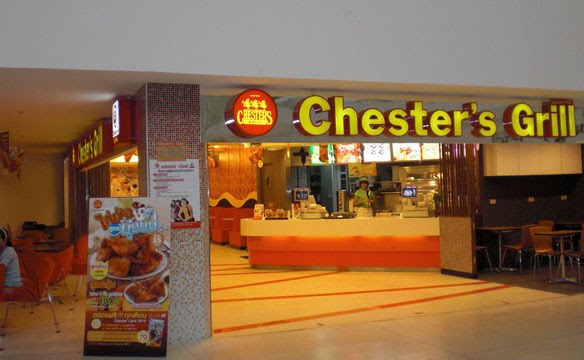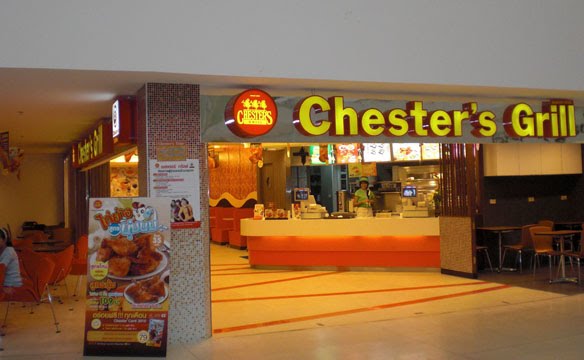 One of my favorite fast food restaurants in Bangkok, Thailand is Chester's Grill. Chester's Grill is a Thai restaurant chain, owned by CP Company, that now has more than 150 locations all over Thailand and is growing very fast. It's popular with teenagers and young adults, as well as families with young children. The restaurant is famous for its chicken dishes (it's much better than KFC restaurants in Bangkok), as well as for its cheap prices. Chester's Grills in Bangkok are at many malls, as well as stand-alone stores. They also have several small Chester's Grills at some local area gas stations. I've eaten at Chester's Grill at least a couple of times a month since I moved to Thailand, and here's why.
Customer Service at Chester's Grill – Even though most of their staff is young, customer service has always been excellent. You go to the counter to place your order and pay. You will immediately be given the drink that goes with your meal, and a plastic number. Then a waitress will carry your tray to your table, place your drink, napkin and utensils on the table and go to collect your food. Food is served extremely quickly and it's always hot – something that is rare at many Bangkok fast food chains. The staff is also very friendly and helpful.
Food at Chester's Grill – Chester's Grill has around 20 different items on its menu, most of which I've tried and all of which have been delicious. They primarily serve different types of chicken dishes – chicken with rice, Korean style chicken with rice, fried chicken and French fries, grilled chicken burgers, salad, hot dogs, and spaghetti. The food is always served fresh and hot, even the French fries, which is unique in Thailand as I've lost count how many plates of cold French fries I've been served.
My only complaint is they used to make a spicy chicken sandwich that was absolutely awesome but, like many fast food places, suddenly it was gone.
In the time I've lived in Thailand, I have probably eaten at Chester's Grill in Bangkok at least 200 times and I've never had a bad meal or a bad experience.
A lot of the Chester's Grills also have Chester's Cafés attached to them. Chester's Cafés serve coffee, lattes, cakes and desserts at prices around 50% of those of Starbucks. I love getting lattes here as they're delicious, they're cheap and they serve them with a small piece of cake and some tea to cleanse your palate when you've finished the coffee.
Chester's Grill Locations in Bangkok – Chester's Grill restaurants are all over Bangkok, and in many other larger cities in Thailand. In Bangkok, you'll find a Chester's Grill at most of the malls, as well as in stand alone restaurants in prime locations.
One of my favorites is at Central World Mall near Chidlom sky train station. The other is in Siam Square. My absolute favorite Chester's though is at the mall next to Sala Daeng sky train station, as it has a Chester's Café right next to it so you can order lunch and then a latte and dessert. It's also a favorite of many of the areas expats, who come here often to hang out and chat with their friends.
Chester's Grill Delivers – Chester's Grill will also deliver in select areas of Bangkok. I've ordered from them several times and it rarely takes longer than 30 minutes to get here. They also only charge an extra 20 baht (65 cents) delivery charge, and the food arrives piping hot.
If you're looking for inexpensive but good fast food, Chester's Grill is a good choice. The food is served quickly (a rarity in Bangkok) and it's always consistent.