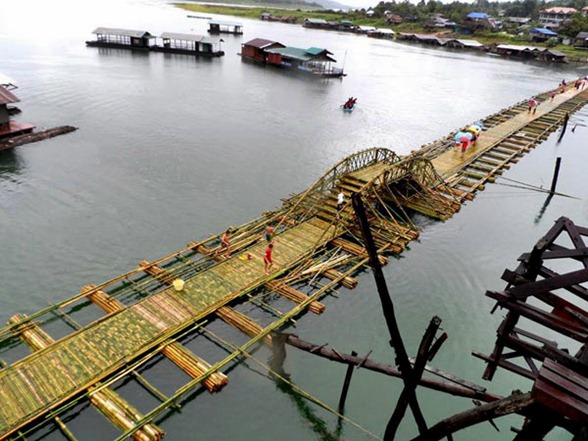 Thailand's longest bamboo bridge is completed by locals in only 6 days
I've always thought Thais were some of the most resourceful people on the planet. When we had the devastating Thai floods two years ago, I thought so even more as Thais went on with their daily business without complaining, often while standing in two feet or more of flood water. So, I wasn't surprised to see this amazing photograph today of Thailand's longest bamboo bridge. Built in just six days by 500 residents of the Sangkha Buri district of Thailand, this awesome bamboo bridge now spans the Song Kalia River.
Why was it necessary to build Thailand's longest bamboo bridge and why so fast?
Thailand's longest bamboo bridge was built this month after the original bridge collapsed last month due to a build up of river weeds. Resident of the Sangkha Buri district usually go backwards and forwards across the bridge all day, as communities on both sides trade or work with each other. So, when the bridge suddenly collapsed and people weren't able to get across the Song Kalia River to go about their daily lives, something had to be done to solve the problem. And quickly.
That's when residents of the area got together under the supervision of an abbot from a local temple and decided they could build a long bamboo bridge to replace the original bridge, as it would be the fastest and cheapest type of bridge to build.
Construction of the bridge began as soon as bamboo had been purchased and, six days later, voila, Thailand's longest bamboo bridge was completed, floating, functional and, yes, beautiful.
How long is the bamboo bridge?
The bridge, by the way, is 850 meters long, including approaches at both sides, and spans the entire way across the 450 meter wide river. It's not open for public use yet as local officials have to make sure it's safe enough to cross, but that is likely to happen in the next couple of days.
Bamboo, of course, is used all over Thailand and the rest of Asia for everything from building scaffolding when skyscrapers are being erected to bamboo flooring, fish traps, greenhouse frames, fencing, animal pens and a lot more. It's one of the world's strongest materials, yet grows so quickly it's inexpensive and also environmentally friendly. So, it's really no wonder the people of Sangkha Buri decided to use it for their new bridge.
All I can say is good for the people of Sangkha Buri district. The bridge is beautiful. And, if you'd like to learn more about the wonders of bamboo, watch this cool video. It shows you why bamboo, once known as the 'poor man's timber' is instead now known as 'the wise man's timber'.