Who are Thailand's most popular sports personalities and sports teams?
I just had to write about another of Social Bakers' most popular Facebook pages in Thailand lists, as they're absolutely fascinating. This one is on the most popular sports personalities and sports teams in Thailand, at least as far as the number of Thai fans they have on Facebook. And yes, it's extremely interesting as I've always believed you can tell a lot about a country from the types of sports they like.
First of all, here's Social Baker's list of top 10 most popular sports personalities and sports teams in Thailand on Facebook (which you can find on their website).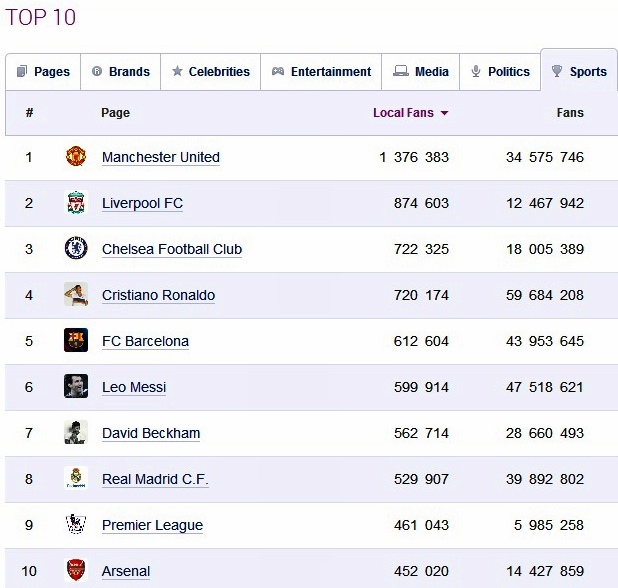 Now look at it closely. How many of those teams and sports personalities are involved in football? All of them. How many of the most popular sports personalities and sports teams on that list are Thai? Interestingly……..none.
The sports personalities and sports teams that are the most popular in Thailand are all……European. Well….actually British and Spanish. The top three teams are British, with one more British team further down the list and two Spanish teams in the middle. With, of course, Manchester United at number one.
As for players…….yep, European.
Why are there no Thai sports teams or personalities on the list?
Anyone who has spent time in Thailand can tell you why.
Thais are not particularly good at team sports as, according to some Thai coaches as well as to western coaches who have worked with Thais, overall Thai sports men and women simply do not work well as a team. Instead, they play sports as an individual which, as any coach will tell you, simply isn't possible in sports like football. Not if you want to win.
Thais, however, love football and they love the teams that are winning. Those teams are, of course, European.
Of course, the reality of Thais not working well within a team is definitely something that is changing particularly as more European coaches are coaching Thai teams, but until Thailand has sportsmen and women that work better as a team than alone, Thailand is not likely to have many Thai teams or Thai sports personalities at the top of the country's list of Facebook favorites. The Europeans, however will continue to dominate.
That is also because the majority of Thais, and particularly Thai men, not only love football, they are obsessed with it. The European teams and players are the best. So Thais love them.
In fact, in my decade in Thailand, whenever I've asked a Thai taxi driver, Thai shopkeeper, security guard, accountant, bank employee or office worker which is their favorite sports team the vast majority say Manchester United, with Liverpool, Real Madrid or Barcelona as very distant seconds.
I have never heard one give me the name of a Thai team. And that's a bit sad, really.
Thais are amazing at solo sports
Before you think Thais aren't good at sports, however, let me address that issue as well.
Thais are actually extremely good (Olympic standard in many cases) at solo sports. Sports like Muay Thai, badminton, weight lifting and golf. In recent years, Thai sports men and women have been doing so well as individuals at international sporting events, they're becoming some of the sports personalities to watch — world-wide — and several Thai sportsmen and women have won Olympic medals.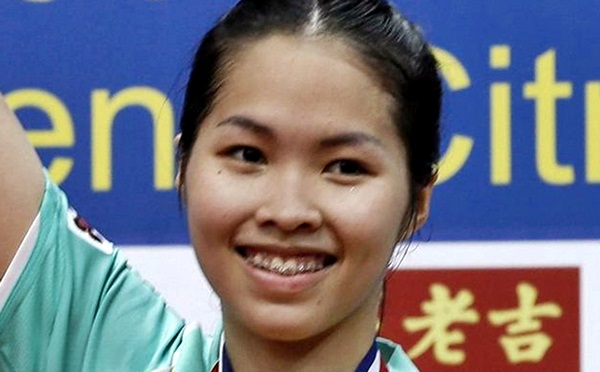 Look at Ratchanaok Intanon, who just won the badminton world championships in China at the incredibly young age of 18. Or 17-year-old Ariya Jutanugarn who came in second in a major LPGA tournament earlier in the year. These are Thai sports women (in this case) to watch, and are likely to be top of their field for many years to come.
And, if you know anything about Muay Thai, you'll know not only are many Thai Muay Thai kickboxers the best in the world, but other non-Thai Muay Thai fighters worry when they have to fight them as they know they're likely to lose.
Thailand's most popular sports personalities and teams on Facebook list
Anyway, take the list for what it is. An interesting look at what Thais are currently interested in when it comes to popular sports personalities and sports teams and……of course, Thailand's obsession with football.
All I can say, as a Manchester United football fan myself, Thais obviously have good taste!