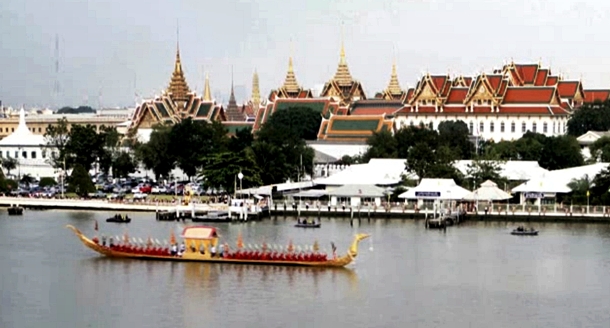 One of my favorite things in all of Thailand is to see the royal barges on the Chao Praya River. They aren't seen often, only for special occasions, but if you are in Bangkok, Thailand on Friday, November 9th, 2012, the Thai Royal Barge Procession will be taking place again. Please. Don't miss it.
One of the most spectacular river events in the world, the Royal Barge Procession is stunningly beautiful as it includes ornately decorated barges with a fascinating history behind them. This year, there will be 52 barges involved in the procession and more than 2,000 oarsman rowing.
To make sure everything goes off without a hitch on the day of the procession itself, there are always several rehearsals before the actual event. The last was held on November 6th.
This time lapse video shows the last full dress rehearsal for Friday's Royal Barge Procession. Watch it and then make sure you attend. Sure, it will be crowded. Sure, it will be hot. But if you are in Bangkok and miss this, you'll regret it later.
This year's barge procession is to mark the end of Buddhist Lent as well as to celebrate the King of Thailand's 84th birthday, which will occur on December 5th.
The procession will begin at the Rama VIII bridge (Vasukri Pier) and go down the Chao Phraya River to Wat Arun. The barges will make their appearance at 3pm. They will arrive at Wat Arun around 4pm and then turn around for the return journey. Make sure you get there at least three or four hours earlier though, as it will be absolutely packed.
Don't forget too, you can see the Thai royal barges up close at the Royal Barge Museum (not on the day of the barge procession, of course). Find out more about the barge museum here.