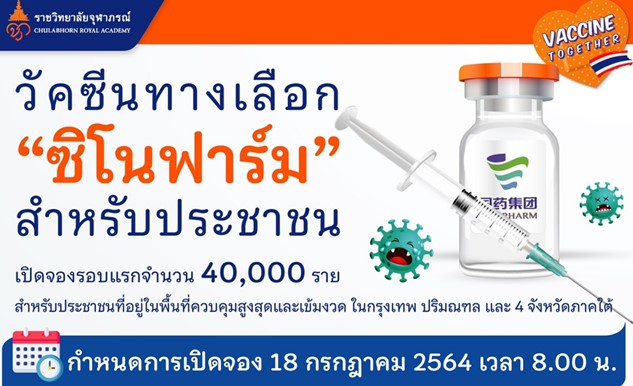 For any Thai living in maximum or strict Covid-19 control zones in Thailand, registration for the Sinopharm vaccine will be allowed from Sunday.
The registration is through the Chulabhorn Royal Academy (CRA), which will accept up to 40,000 registrations for Sinopharm during the first rollout.
Registration begins at 8am on Sunday, and is for anyone over age 18 living in one of the pre-mentioned control zones.
Currently, those zones are Bangkok, Nakhon Pathom, Nonthaburi, Pathum Thani, Samut Prakan and Samut Sakhon provinces, plus the four southern provinces of Narathiwat, Pattani, Yala and Songkhla.
Registration will be through the Chulabhorn Royal Academy at this website, as well as through the app CRA SINOP.
The app is not able to be downloaded yet, however, as it is still awaiting approval, so the website may be a more reliable option for registration. (Article continues below…)
Tourist who tested positive for Covid in Phuket Sandbox vaccinated with Sinopharm vaccine
Be aware this is not a free vaccination, like those being given in most western countries, but instead is a paid Sinopharm vaccine that will cost each person 1,554 baht (approximately $52) for both doses.
There is also no word yet on if foreigners can also register for the Sinopharm vaccine through Chulabhorn, or if this particular Sinopharm vaccine program is only for Thais.