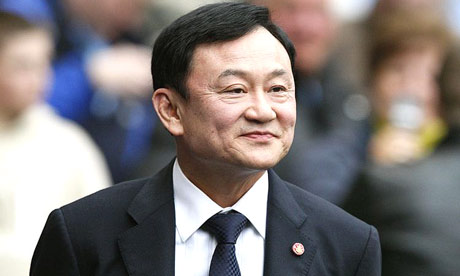 And the hilarity continues. Thailand's opposition party ie: the Democrats, are angry that Thaksin Shinawatra was given a visa to visit Japan and is currently in the country on a pseudo state visit. Thaksin is in Japan to visit places affected by this year's tsunami and to talk to Japanese officials about more economic opportunities between Thailand and Japan. The opposition is angy as they say he should never have been given a visa, considering he's wanted in Thailand under 'abuse of power' charges.
The Japanese, who don't normally give visas to any foreigner who has been given more than a one-year jail sentence, (Thaksin was given two years, which he's never served as he fled the country), say they reviewed the situation and gave him the visa after a request from the Thai government. The government, of course, is now headed by Thaksin's sister, Yingluck Shinawatra.
There's also the possibility Japan realizes, like much of the rest of the world, the jail term Thaksin was given had nothing to do with his 'abuse of power' but more to do with Thai courts trying to legitimize the illegal coup that overturned Thaksin's government. Much of the rest of the world believes Thaksin should never have been ousted from power and knows it was due to the corruption of certain Thai officials and a power-grab by the Thai military.
Thaksin's visit to Japan simply solidifies his legitimacy. We think it's a good thing.