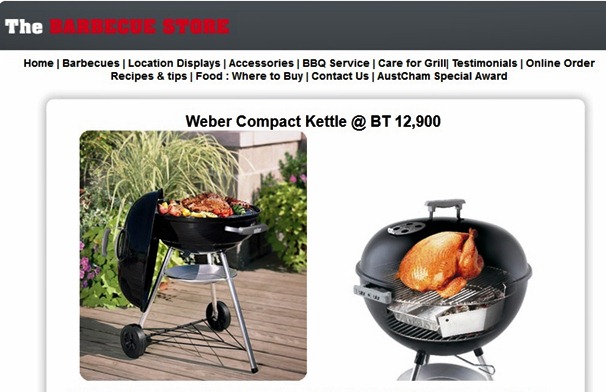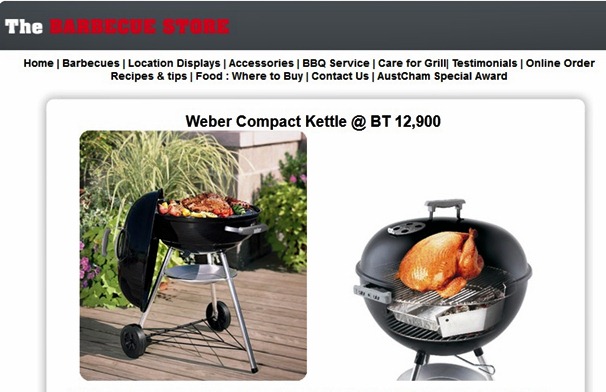 Looking for the best place to buy a barbecue grill in Bangkok, Thailand? No worries as there's a company called The Barbecue Store that sells just about everything any barbecue lover could want.
Now, being a vegetarian, I'm not usually a huge lover of barbecues, although you can make a very nice baked potato or ear of sweet corn on a barbie grill I'm told (I don't cook, so I wouldn't know this). Plus, with Thailand being so hot who on earth wants to stand over hot coals while cooking?
But….if someone else is going to make me a nice vegetarian barbecue, I'm all for it. That's why I went barbecue grill shopping with a Thai friend a couple of weeks ago as her husband will be the one cooking, I won't. And he's a gourmet cook.
Our initial plan was to go to a few shops in Bangkok that sold barbecues and barbecue accessories and then have a late lunch. Luckily, though, we stopped off first at The Barbecue Store and, from then on, there was no need to go anywhere else as they had so many grills to choose from. In fact, it doesn't matter if you want a small grill capable of cooking a few burgers or a massive Viking spit for half a pig – they sell it all, including just about every barbecue accessory known to man.
Price-wise, you couldn't exactly say The Barbecue Store in Bangkok is cheap but they do sell top-of-the-range grills and, let's face it, when many are imported from the US and Japan, of course you're not going to get them at rock-bottom prices. But, the quality of the grills they sell is very high, their selection is huge and their staff is professional, helpful and really knows their stuff.
My friend, of course, was delighted with the grill she eventually bought there and I hear her husband was as well.
By the way, we stopped at The Barbecue Store at Sukhumvit Soi 39 in Bangkok, if you're wondering where you should head to for your new grill.
If you're not in the capital, however, they do also have store locations in Chiang Mai, Pattaya, Phuket, Hua Hin and on Koh Samui. They've also been in business for years.
Finally, once you've bought your barbecue grill, if you're looking for some tips on how to cook barbecue, you can't go wrong with a visit to Bangkok's biggest barbecue franchise — Bar-B-Q Plaza — it's Thailand's biggest barbecue chain and their food is excellent.