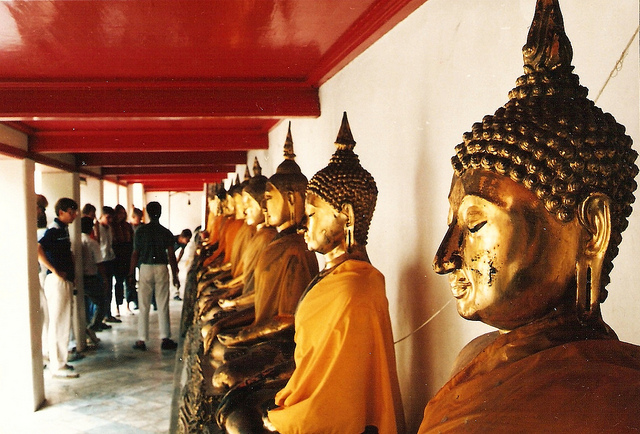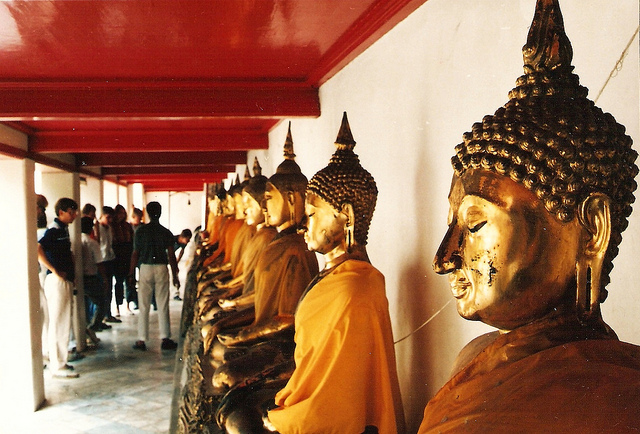 If you look at photos from Thailand, the things you are likely to see the most are the ornate Thai temples and monks in saffron robes. Every neighborhood in Bangkok has a Buddhist temple, and many of them have a lot more than one.
Some of them are small with only a handful of monks living there; others are enormous with many buildings and several hundred monks. All Thai temples are open to the public, so you can wander around Bangkok and visit any that look interesting.
'Wat' is the Thai word for temple. I love going to temples, but here are the ones I think are the best Bangkok temples to visit, and the most interesting.
Wat Phra Kaew (known as the 'Temple of the Emerald Buddha')
This is the most famous temple in Bangkok. Next to the Grand Palace, it is without doubt the most beautiful building I have ever seen. Thailand's most sacred relic, the Emerald Buddha, is housed here and Thais come from all over the country to pray at its feet.
The temple was built in 1786 and features incredible mural art, golden statues, and carved stone figures. The outside of the temple is covered in broken multi-colored china pottery that shimmers in the sun, and every building gives off a feeling of peace and tranquility.
The almost 2,000 year old Emerald Buddha has a famous story. Hundreds of years ago, it was covered in stucco and was forgotten. Then in 1434, a chedi it was hidden in was hit by lighting. Eventually the stucco peeled off and the Emerald Buddha was discovered beneath. The Buddha is made of green jade and clothed in gold, but people thought it looked like an emerald so it was nicknamed the Emerald Buddha.
Visit Wat Phra Kaew and then continue on to the Grand Palace where you can see the Throne Room, where His Majesty King Bhumipol Adulyadej was crowned.
One word of warning, if somebody comes up to you and tells you "Temple closed" or "Grand Palace closed today", they're not. It's just a scam so that you might go to a tailor shop with them instead.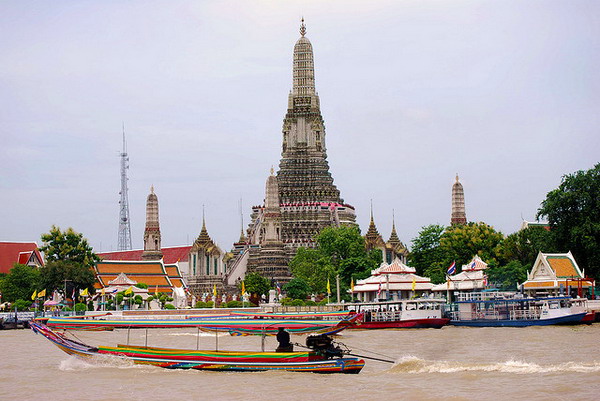 Wat Arun (known as 'Temple of the Dawn')
Wat Arun appears on many postcards of Thailand as it is so beautiful. It stands on the banks of the Chao Praya River, and was built when the capital of Thailand was still Ayutthayah, more than 600 years ago.
Wat Arun is built in the Khmer style with a very high central tower and four other towers around it. The building is covered almost entirely in pieces of beautiful colored porcelain and glass. You can climb up the central tower, where you have a fabulous view of the city around. You should also explore some of the small temple buildings close by the main towers.
Wat Arun is also a popular place to come and celebrate the Thai festival, Loy Krathong, in November. They hold a huge temple fair and you can launch your krathong (small boats made of banana leaves) into the Chao Praya River from the temple grounds.
Launching the krathong is supposed to bring you luck, and Wat Arun is said to be one of the luckiest places to do it from.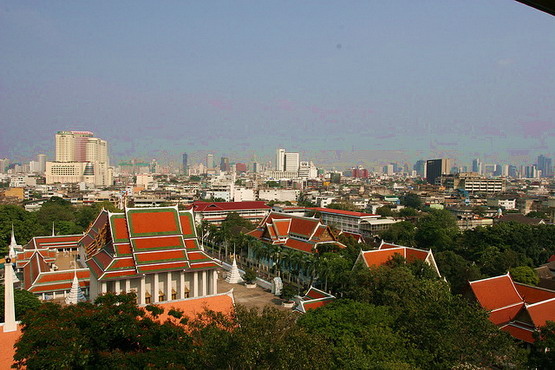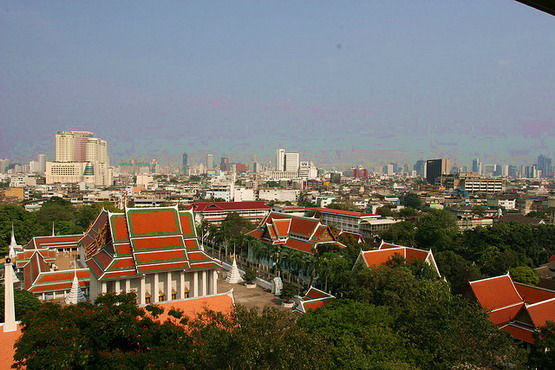 Wat Saket (known as 'The Golden Mount')
Wat Saket is on a small hill in the middle of the city. It's a large temple with many buildings, but the main temple building is built into the artificial hill so has a wonderful view of the city.
You can climb all the way up the steps to the top (takes about 10 minutes) where you will see a small chedi, which houses an important Buddhist relic. It's also worth climbing up here because the view over Bangkok is spectacular. Bangkok is a very flat city so you can literally see for miles in every direction. Bring your camera!
Wat Traimit (known as 'The Temple of the Golden Buddha')
This temple holds the famous 'Golden Buddha'. This is the world's largest solid gold Buddha, which weighs more than 5 tonnes and is over 3 metres high. The Buddha is supposed to be worth more than US $10 million.
Hundreds of years ago, the Buddha was covered in plaster to hide it from the invading Burmese armies. It was then forgotten about, until a workman in the late 1950s knocked it while it was being moved. The plaster fell away, and the enormous Golden Buddha was seen underneath.
Wat Traimit is near Chinatown, and is easy to get to on the underground – just go to Hualampong Station and take a taxi from there.
Wat Mahathat (known as 'The Temple of the Great Relic')
Wat Mahathat is from the 18th century and houses a Buddha relic. It's a great place to experience a traditional Thai amulet market as there's one close by. You can also see traditional medicines and herbalists, as a weekend market sets up in the temple grounds to sell these things.
Wat Mahathat is famous as one of the few places in Bangkok to be able to learn about Thai Buddhism in English. Many of the other temples offer classes, but they are always in Thai. Wat Mahathat also houses Thailand's oldest Buddhist education institute for monks.
It's located near Wat Phra Kaew, so you can easily see these two temples and the Grand Palace in one day. Food stalls around the temple will provide a nice lunch, and unique little shops that are frequented by college students are nearby.
These are some of the most famous Thai temples in Bangkok, as well as some of my favorites. All temples have their uniqueness and beauty though, and are all fascinating in their own ways.
If you're lucky, you may also stumble upon a monk who speaks English and who will often give you 'inside information' about his temple.
Just remember, if you're female, don't touch him. If a monk is touched by a woman, he has to go through an elaborate cleansing ceremony and it's a real pain.