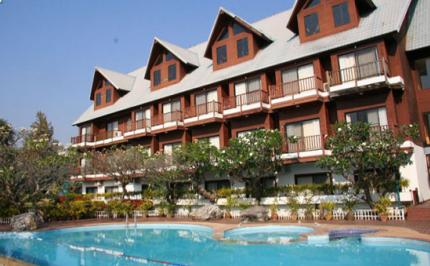 I recently visited Khao Yai, one of Thailand's biggest national parks, and stayed several days in The Bonanza Khao Yai Hotel, a resort hotel on the outskirts of the park. The Bonanza Khao Yai Hotel is located in Pak Chong in Nakhon Ratchasima and is a 3-star hotel. It's advertised as an original log home resort and hotel with an 18-hole golf course, horseback riding, bicycle hiring and canoeing.
We visited out of season, though, so most of these activities were not available or not available when we wanted to do them. I had a pleasant enough stay at The Bonanza Khao Yai Hotel and, for the price, would say it's a good choice.
Location of The Bonanza Khao Yai Hotel – The Bonanza Hotel is located on the outskirts of Khao Yai. It's a 15 minute drive off the main road and, once you get there, you'll find it's very secluded. Only a few small local shops, a cafe, a steak restaurant, a rose garden, and an adventure park are close by. Other hotels in the Khao Yai area are closer to more things going on,but if you'd like a good night's sleep, the Bonanza Khao Yai Hotel is perfect.
The Staff at The Bonanza Khao Yai Hotel – It was actually quite difficult to even notice the staff at the hotel as they were so quiet and unobtrusive. Fine, if you like to be left alone, but it would have been nice to be greeted with a "Good morning" or "Sawatdee Kha" now and again, as my friends and I just felt ignored.
I even had a problem with no hot water pot in the room and went to the front desk to ask but, at no time was I told a hot water pot could be arranged for me even though, on the hotel specifications, there was supposed to be one.
The staff in the dining room too weren't overly friendly. Don't think I saw a smile from any of them during the few days I stayed at The Bonanza Khao Yai Hotel.
The Rooms at The Bonanza Khao Yai Hotel – When we were visiting the hotel, they were in the process of doing a large renovation. We were lucky that we got a renovated room and, although small, it was lovely. Others in our party, however, got older rooms which are old-fashioned and  a bit depressing but, by the time of this reading, all of the rooms at the Bonanza Kaho Yai should have been renovated so you'll probably love them.
The only thing I didn't like about our room was the shower, as it was simply a shower head coming out of the wall with no separation from the rest of the bathroom.
Every time I took a shower, I had to paddle through the bathroom to reach the toilet and the sink and my friend, who often took a shower after me, also had to paddle through my shower water to be able to take a shower of her own.
Why the hotel didn't build a separation or put up a shower curtain is beyond me. It's a beautiful bathroom but not functional at all.
The Food at The Bonanza Khao Yai Hotel – I had read a couple of reviews about the food at The Bonanza Khao Yai that were not complimentary so I was prepared to not particularly like it.
Actually, for the most part, the food was good. We ate dinner there one night with a mix of Thai and western food (lovely pork in gravy, vegetables and baked potatoes), breakfast was nice with toast, fried eggs, potatoes, sausage, ham, and several Thai dishes as well as assorted fresh fruit.
Overall, The Bonanza Khao Yai Hotel was nice enough. It's not a bad hotel and is in a pretty location around a lake and with a nice swimming pool, but from other hotels I've seen online or other hotels where friends have stayed, there are better hotels to stay at in the Khao Yai area.
However, when I was there The Bonanza Khao Yai Hotel was in the middle of a major renovation so it may be an even better hotel after the renovation is complete. At only $45 per night for a basic room though, the price is extremely affordable.