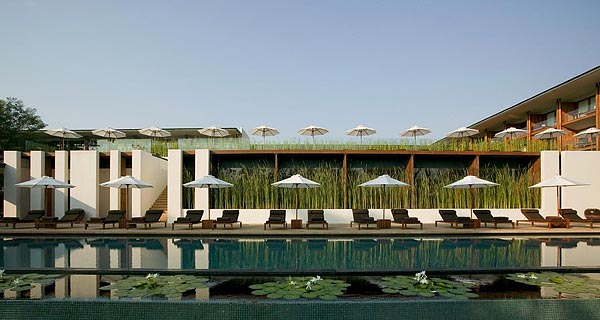 When I travel to Chiang Mai, Thailand I always stay in a mid-range hotel. That's why, when a friend suggested we stay a couple of nights at The Chedi, Chiang Mai's most luxurious (and expensive!) hotel, my first question was "Why?". A cheapskate on accommodation, I couldn't see spending over $250 a night at The Chedi when I could stay in a lovely-enough hotel in the center of Chiang Mai for $40. That's when my friend told me our two nights at The Chedi were a gift from her father. A man who has more money than I'd know what to do with. My response? "When are we leaving?"
Not surprisingly, our stay at The Chedi proved to me spending several hundred dollars a night really does give you a luxury experience and the 'stay of a lifetime'. In fact, if I had that kind of money to spend every time I visited Chiang Mai, The Chedi would be my hotel of choice.and here's why.
Where is The Chedi? – In Chiang Mai,on the banks of the famous Mae Ping River, the location of The Chedi is lovely as, though its within walking distance of the Night Bazaar and many other popular Chiang Mai places, it's set back from the main street so quiet and secluded.
Much of the grounds are also tucked away behind a high wall, so you're kept from the eyes of the curious and prying. When you arrive, it doesn't look impressive as there's not much to see, but when you get past the walls the "Oh My God" reaction kicks in and it's really quite lovely.
Rooms at The Chedi – I've always heard the guest rooms at The Chedi are stunning and, yes, it's true. Designed in a contemporary Thai-Asian style, ours was an absolutely massive Club Suite (I said my friend's father had a chunk of change), with its own courtyard entrance, a huge sitting area with comfy sofas and chairs and enormous glass sliding doors that opened up onto a lovely private balcony.
The rooms, although Asian-style, are actually quite minimalist in design so the whole feel of it is elegant, clean and so so stylish. In fact, they're so comfortable (don't miss lying on the day-bed on the balcony), one day we didn't even leave the room until noon as, with so much luxury and comfort, all we could think was "Why should we?"
Rooms are also fully modern, with Bose speakers, Wi-Fi internet, a free mini bar (in Club Suites) and an electronic safe. The massive buffet breakfast is also included in the room rate, a fact we were both ecstatic about as we'd heard it was amazing and, no, it didn't disappoint.
Staff and Service – Where you can absolutely tell The Chedi deserves it's Top Ten Hotels in Chiang Mai designation is on the service and the staff. From the minute we arrived, we were treated by everyone like honored guests but in a quite calm and unobtrusive way.
Everything is taken care of, but you hardly notice it, and a question about something is immediately met with a solution – whether it's a suggestion to go somewhere in town or something they can bring to your room right away – nothing is too much trouble.
The staff at reception too are absolutely delightful and so helpful when we had questions about the best places to shop for handmade pottery and lacquerware
The first-class service becomes very apparent when you decide to have Afternoon Tea at The Chedi. Famous for it, and a top destination for high-society Thais from all over Chiang Mai, afternoon tea is a must if you stay here. They start serving around 3pm and with so many delicious sandwiches and cakes to choose from, we barely managed to eat dinner that night as, of course, we had to try everything. The elegance of the experience too cannot possibly be overlooked – silent gliding waiters, gorgeous china teapots and plates, stunning surroundings, and the most mouthwatering cakes – yes, I could live like this permanently.
Breakfast at The Chedi too is wonderful, with so many choices of items, both Thai and International, you could sit there all day and still not be able to eat half of it and the coffee, oh the coffee, the best I've had in any hotel – anywhere.
Value for Money – Although not a cheap hotel, for the standard of service, rooms and food, The Chedi is actually an incredible deal. Sure, our guest room was a gift from my friend's father but, even if we'd paid for it ourselves, for that type of luxury $260 a night is a steal. They also often offer 'Stay 2 Nights Get a 3rd Night Free' on various websites, which gives you three nights in one of the most luxurious hotels in Thailand for only $520 for a Club Suite.
Of course, the hotel also has Deluxe Rooms (the lower level room), which begin at around $150 a night, with the 'Stay 2 Nights…" deal on these too.
If you're wanting to splurge and stay in what will be the most luxurious and spectacular hotel you've ever been in, but a place that's not ostentatious, simply elegant – then The Chedi in Chiang Mai is the place.
You can book a room at the Chedi through Booking.com, who always has excellent rates.
You'll find them at 123 Charoen Prathet Rd., Tumbon Changklan, Changwat, Mueang Chiang Mai.