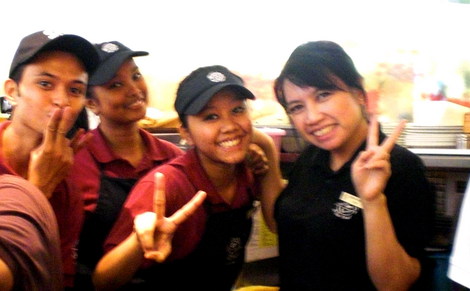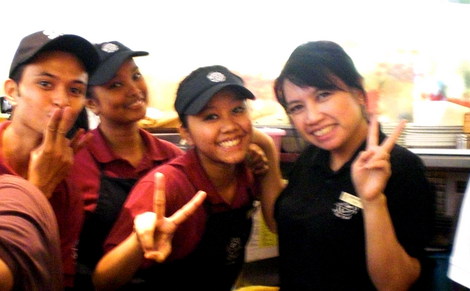 When I lived in the US, my favorite coffee shop was The Coffee Bean and Tea Leaf. Imagine my surprise therefore, on my first trip to Kuala Lumpur, Malaysia a few years ago to see The Coffee Bean and Tea Leaf all over town.
On subsequent trips, I've frequented several of them but the best branch has to be the one at the Suria KLCC mall. Located on the mezzanine on the first floor of the mall in the Ramlee.side, it serves perfect coffee, delicious food, awesome cakes and pastries and has just about the nicest staff I've ever met at a chain coffee shop.
The Staff at The Coffee Bean and Tea Leaf at Suria KLCC – Before I even start raving about the food and the coffee,I have to give kudos to the staff. Friendly, helpful and efficient, on my current visit to Kuala Lumpur a couple of them even remembered me from my last visit over three months ago.
On top of that, the manager, Fauziah, is absolutely delightful. From helping me with a connection problem on their free Wi-Fi, to coming to talk to make sure everything is okay, and making suggestions for some amazing food, she's the happiest, most smiley and friendliest manager at any coffee shop I frequent. The management at The Coffee Bean and Tea Leaf should be thrilled to have such an excellent employee. She's a credit to the company.
The Coffee – While many chain store coffee shops serve bitter coffee (a la Starbucks), The Coffee Bean and Tea Leaf serves a smooth blend that's rich and satisfying. I normally always drink non-fat hot lattes, but this trip also tried their drip coffee and it was delicious. So much so, I had about nine cups during a two day visit.
The Food – Unlike many coffee shops, where the food choices are a couple of stale sandwiches and a muffin or two, The Coffee Bean has an excellent hot sandwich menu,bagels, muffins, scones (all fresh!) and some stupendous cakes.
I highly recomment the Egg Club Sandwich (ham, melted cheese and two poached egss on a soft and delicious roll), which comes with a side salad that has a light salad dressing and is sprinked with almonds and cranberries. On my last visit, I ate a Honey Mustard Chicken Chop (recommended by the manager) that came with mashed potatoes and gravy and the same side salad. Yum!
The Atmosphere – I love the Suria KLCC Coffee Bean as it's right on a mezzanine with a great view of the whole mall and is bright, light and happy feeling. There is seating for around 60 people, with several booth-style seats at the back. Get their early though. Between 12 and 20pm, they are very busy.
The Coffee Bean and Tea Leaf
Tel: 603-2079 6997/2070 3172