Tourist season in Thailand is from mid-October until the end of March. During that time, the weather in Thailand is bearable, so tourists love to come. During off-season though, the summer months, it is a completely different story.
From April until the end of September, the heat in Thailand is off the charts. With an average temperature in Bangkok of 93-99 degrees, for western tourists who aren't used to that kind of heat, coming to Thailand can be miserable.
If you plan on visiting Thailand during the summer months though, there are places you can go where it is cooler and much less uncomfortable than Bangkok. Just make sure you spend part of your vacation in one of these cooler Thai places, and you should have a wonderful holiday in Thailand.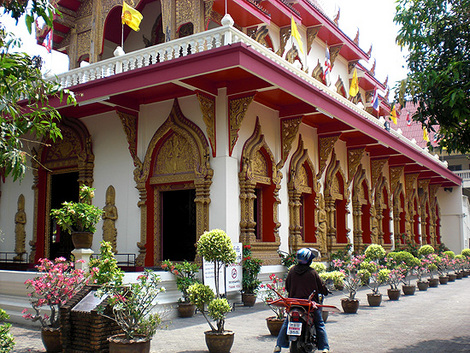 Chiang Mai – Although still hot, in the summer months, Chiang Mai is definitely cooler than Bangkok. There is less traffic and so less pollution, and this tends to make the city cooler. Pollution acts as a heat trapper, causing the temperature to increase.
As Chiang Mai has less overall pollution than Bangkok, it is often cooler in the summer months. The city is also in northern Thailand, so is naturally cooler than the southern part of Thailand. Chiang Mai is a wonderful place for a vacation as there is a lot to do – trekking, raft riding, elephant riding, great shopping, nice restaurants, a fabulous night bazaar and much more.
Related: What does a cheap $250 apartment in Chiang Mai, Thailand look like?
Also, in the last few years, Chiang Mai has seen a big increase in air-conditioned shopping malls, stores and restaurants so, even if you find the high temperature too oppressive during the day, you can head inside and stay cool that way.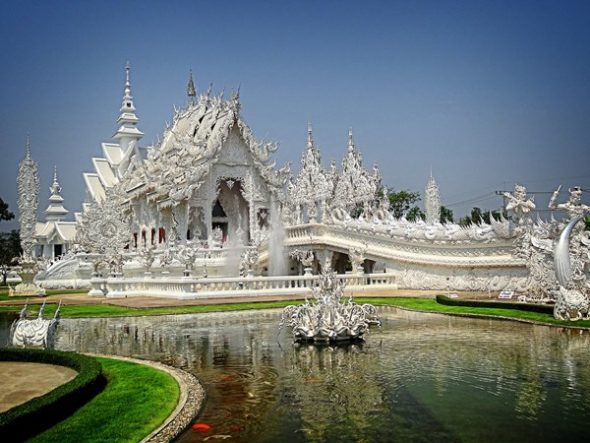 Chiang Rai – Even further north than Chiang Mai, Chiang Rai is a lovely town near the Burmese and Laos borders. The temperature in Chiang Rai in the summer months tends to be at least 8-10 degrees cooler than Bangkok and with nice breezes too.
Chiang Rai is also famous for its mountain, which again makes the temperature cooler, especially if you're willing to go trekking higher up into the mountains.
Related: How to get to Chiang Rai from Bangkok by bus, train and plane
You can even go camping or stay in a house up in the mountains, if you want the temperature to be even cooler.
Chiang Rai is a small but vibrant town with lots of cool coffee shops, restaurants (even some excellent international cuisine places), some interesting museums, a good night market and with trekking, elephant camp or boat riding trips too.
Phimai – Phimai in Isaan is a little off the beaten track, but still a lovely cool place to visit during the summer months in Thailand. It is also the site of the famous Phimai Historical Park, which is where you can see Thailand's most important Khmer temple (similar style to Angkor Wat).
Phimai is a fun town to visit too if you are looking to experience more traditional Thai culture.
Phimai has lots of Thai restaurants, more typically-Thai shops, a small night market, and some small bars where you can even hear live music. Air-conditioning is definitely in short supply here, but because the town is cooler, you won't feel it as much as you would in Bangkok.
Mae Hong Son – Otherwise known as the City of Mists, Mae Hong Son is one of the loveliest places in Thailand and one of the coolest during the summer months. About a three-hour drive north from Chiang Mai, Mae Hong Son is known for its beauty, its mountains and the hilltribe people who live in tiny out of the way villages up in the mountains.
It is also a popular place with westerners as it is an artsy town full of galleries, little coffee shops, bookstores, excellent but cheap restaurants and little bars. Mae Hong Son is a wonderful place to relax and enjoy cooler weather while those in Bangkok are par boiling.
Related reading: These cheap Mae Hong Son restaurants are excellent value and the food is delicious
These four towns are fabulous places to spend a visit to Thailand during the extremely hot summer months. Not only are they cool but there's plenty to do to keep you occupied.
They are also more authentic Thai than much of Bangkok so you will get a whole different experience during the summer months here.