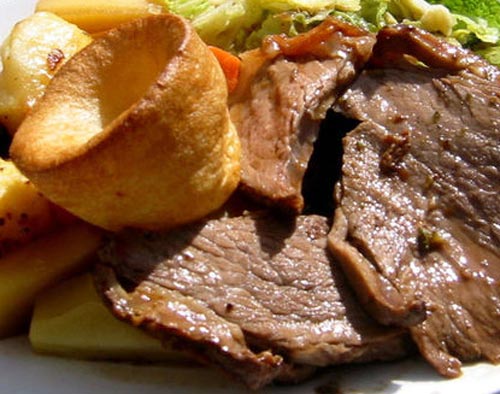 A couple of years ago, I worked at the Bangkok office of an international company on Ratchadapisek Road. One month, I worked on an extra project for one of the company's Thai owners and, in gratitude, he took me for lunch to a British-style restaurant and tea room called The Cup. Tucked away on the second floor of an old-fashioned office building, The Cup's strange location doesn't do anything to detract from its lovely atmosphere and excellent food. It's also one of Bangkok's mainstays, popular with high-society women and executives, who enjoy it's calm ambiance and elegant air.
The Atmosphere at The Cup – The Cup is a large airy restaurant, tucked out of the way at the front of the second floor of Lake Ratchada Office complex. Designed like a British-style tea room, with white tablecloths and light wood, it's bright if not a little old-fashioned but with a lovely view out of the large windows over the park across the street. It's calming and relaxing inside, with low, soft music and quiet staff that seem to arrive on wings, you can barely hear them coming.
The Food at The Cup – Of course, everyone eats at a restaurant for the food and The Cup is no exception. The cuisine is standard British fare but cooked to perfection. Moist, succulent roast beef with Yorkshire pudding and gravy, flaky fish, roast lamb, tender pork and a wonderful steak dish. Entrees arrive with salad or vegetables as well as a choice of sauce. Portions are small, but the food is wonderful.
Every day at lunch there's a set menu, with one of two soups, one of two entrees, one of two or three desserts and coffee or tea to choose from. Each selection is excellent that it's often hard to choose. Don't miss trying the restaurant's classic caesar salad and, for dessert, the apple pie a la mode is excellent.
In the afternoons, The Cup is popular with the ladies-that-lunch set, who love to come for tea and cakes, as they're known for their delicious cakes and pastries.
Prices at The Cup – Not one of the cheaper lunches in Bangkok, lunch for two normally runs around 2,000 baht ($60), which is quite steep for Bangkok. However, you're not only paying for the delicious food,
you're also paying for the atmosphere and the sheer elegance of the place.
The only drawback to The Cup, for me, is the incredible quietness of being there. I grew up in England, where upscale restaurants were all hush-hush places, where you felt you had to tiptoe to get in and leave without making a sound. The Cup is the same. So quiet, in fact, it's impossible to have a private conversation as every sound carries.
Having background music just sightly louder would cover some of the sound, without being at all intrusive. Other than that, The Cup offers a lovely experience and it's not surprising why it's been a classic restaurant in Bangkok for more than 20 years.
Address: The Cup is located in the Lake Ratchada Office Complex on Ratchadapisek Road. Telephone Number: 02-264-0247.