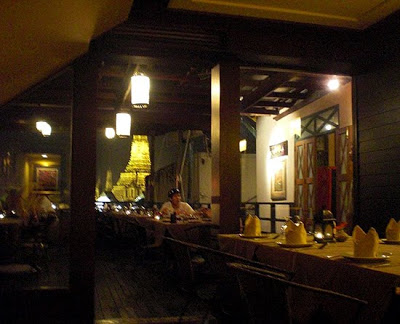 Inside on the second floor of The Deck By The River, with the outside deck visible, and illuminated Wat Arun across the river.
Eating out at beautiful restaurants is just about the thing I do best. The Deck By The River, one of Bangkok's most beautiful restaurants, was introduced to me recently by my Thai friend, Tua.
Tua is Bangkok-born and bred and loves to eat. She's also one of my best sources for great restaurants — although only Asian cuisine, as she won't touch the western stuff. Anyway, she'd rambled on about The Deck By The River for so long, I finally said "Uncle" and, one Saturday night, off we went.
And from the minute I arrived at The Deck By The River, all I could say was, "Oh My God".
Because if you love a stunning restaurant, all wood floors, dark and cozy interiors, smiling waiters and incredible food (both Thai and international cuisine), then you will think you're in paradise at The Deck.
Throw in an astounding view of the illuminated-by-night Wat Arun (Temple of the Dawn), just across the river and an open-air rooftop bar, where you can enjoy an after (or before) dinner drink or a coffee, and you will soon be at The Deck every weekend.
As for the food, when the menu arrived it was difficult to choose as I always feel guilty if I don't order Thai food. But sometimes, western food just hits the spot.
We shared bruschetta for appetizers and a plate of chicken satay – the bruschetta could have done with being slightly warmer, but was still delicious, but the piece de resistance was the chicken satay.
Now, to say I've eaten it over 100 times in the years I've lived in Thailand, this was the best I've ever eaten – anywhere. Thick, juicy chicken with a perfect peanut sauce and pieces of toast to also dip in the peanut sauce once the chicken ran out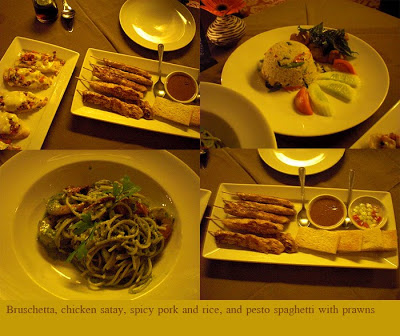 For the main course, I ordered pesto spaghetti with prawns (perfect) and Tua had a spicy fried rice with fish, which she declared "Aroy maak" (absolutely delicious).
Finishing this feast off with a couple of hours upstairs at the rooftop bar drinking cocktails and lattes and looking out over the Chao Praya River as the boats went by, and I have to say The Deck By The River was an unqualified success.
You will find The Deck By The River by Arun Residence at 36-38 Soi Pratoo Nokyoong Maharaj Road , Phrabarommaharachawang , Phranakorn in Bangkok. Telephone: +66 2 221 9158