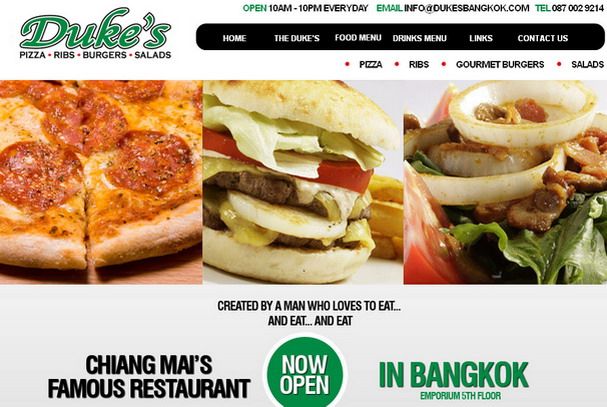 Although Bangkok has thousands of restaurants where you can buy burgers, pizza and ribs, if you're looking for an authentic, American-style gourmet burger, pizza or barbecued ribs, they're few and far between. That's why, if you're an American-style food lover, a vist to The Duke's is a must.
Located at The Emporium mall on Sukhumvit, the Bangkok location of The Duke's is small but has a large menu, and serves some of the tastiest burgers, pizza, ribs and other American-style goodies in Bangkok. In fact, if you're looking for somewhere casual, with great tasting American food for an inexpensive price, you can't go wrong with The Duke's.
The Food at The Duke's – For a smallish restaurant, The Duke's has a large menu. You can choose from starters like buffalo wings and garlic bread, eight different kinds of burgers, 10 types of pizza (pepperoni, garlic chicken, shrimp scampi, vegetarian), a half rack or a full rack of ribs, several salads (caesar salad, spinach salad), lasagna, spaghetti and meatballs, onion rings, french fries, coleslaw and delicious desserts like cheesecake and chocolate brownies.
I've now eaten at The Duke's at The Emporium mall twice and will be heading back there again next week. On my first trip, I had my favorite burger, the Swiss mushroom burger with onion rings. The burgers are all made from imported Australian beef and, when you're used to burgers using meat from Thailand, you can easily tell the difference. The meat is just less tough and extremely flavorful. Buns at the Duke's are baked fresh, and the patty is cooked perfectly, and was succulent and juicy.
The Duke's onion rings are the first true American-style onion rings I've had in Bangkok and they really are excellent. Served piping hot (yes, this is unusual in Thailand where food often arrives at your table lukewarm) and with a slightly herbed taste, they are absolutely superb.
The Thai friend I ate with ordered a meat lovers pizza (sausage, pepperoni, meatballs and mushrooms) and it was made with the perfect thickness of crust and just the right amount of cheese. I ordered this the second time I ate at The Duke's and wasn't disappointed. It's loaded with meat and cheese and well worth the around-$8.60 price.
Prices at The Duke's – Prices overall are low, particularly for the size of portions and the fact that some of the ingredients they use are imported. A basic cheeseburger that comes with french fries, onion rings or coleslaw is only 159 baht ($5.50) and my Swiss mushroom burger loaded with cheese and a nice sized portion of onion rings was just 235 baht ($7.55).
Pizzas begin at 195 baht ($6.60) for a basic cheese pizza and go up to 245 baht ($7.90) for their specialty burger – The Duke's and 265 baht ($8.60) for their meat lovers special.
A half rack of barbecue ribs will cost you 275 baht ($8.80) and the full rack only 475 baht ($16.25).They're wood oven roasted and, as they say 'Falling Off the Bone". They also use real American-style barbecue sauce, again, a rarity in Bangkok where many barbecue sauces tend to be incredibly sweet.
Location of The Duke's – You'll find The Duke's in the upscale Emporium Mall next to Phrom Phong BTS sky train station. They're up on the fifth floor in the restaurant section among all the food court fast food restaurants. It is a small restaurant, only about eight tables so, at lunch time get there early or you may have to order your burger to go.