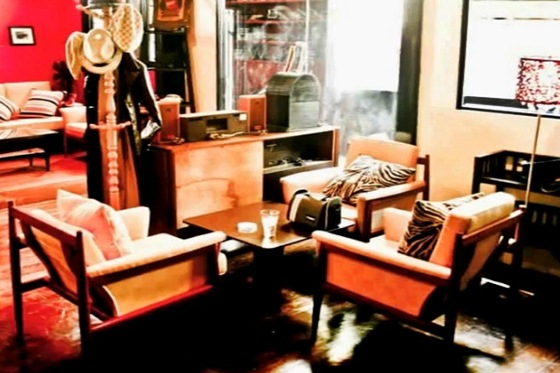 I'm a sucker for desserts. Never miss them, and sometimes eat more than one. So, when I heard about a dessert cafe called 'The Fabulous Bar and Dessert Cafe' on Khao San Road in Bangkok, Thailand, of course I had to go.
A trendy, cool dessert cafe and restaurant during the day and a fashionable bar at night, The Fabulous Bar and Dessert Cafe is hugely popular with daytime and nightlife crowds.
Location of The Fabulous Bar and Dessert Cafe – Easy to find, if you head to Bangkok's backpacker street, Khao San Road, look for a cool wooden house and that's where you'll find it. Once the location of the oddly named, It Happened To Be a Closet, it's now home to one of the nicest dessert places in town.
I read in the Bangkok monthly city magazine, Bangkok 101, that the style is much likened to Friends, and yep, that's exactly what it's like. Cozy, comfortable and incredibly relaxing, it's the best place on Khao San Road if you want to hang, without having to deal with all the grungy backpackers and sex tourists.
Food and Drinks – The Fabulous Bar and Dessert Cafe, known locally as just 'The Fabulous', serves three things – awesome cakes and desserts, coffee, tea and other non-alcoholic drinks and, of course, booze. Now, I'm not a big alcohol drinker, particularly during the day so, on my several visits to The Fabulous Bar and Dessert Cafe, I've stuck to lattes and cake.
Friends with me though indulged in several cocktails early on in the evening and said they were excellent. Cheap too.
As for the food, Choc Satin is the absolute must-eat dessert. A circle of moist chocolate cake, simply squishing with chocolate and taste, it's served with whipped cream and is simply to die for. In fact, I have to admit, on one particularly happy day over a three hour period, I managed to consume two of them. Probably not recommended for the hips, but I dreamed about it for days after.
Also try the sweetened toast and vanilla ice cream (sounds a bit odd, but far from it), the crepes (served with ice cream and cream if you want) and, of course, the caramel mousse, blueberry cheesecake, tiramisu and strawberry truffles. There's also a fruity cakey-thingy I haven't tried yet but one Thai friend says she's eaten ten of them.
I love the design of The Fabulous Bar and Dessert Cafe too.
It's all dark and cozy with separate seating areas, positioned so you're apart from everyone else with the ability to still enjoy and be part of the atmosphere, but tucked away by yourself if you like. Sofas, leather armchairs and overstuffed chairs are also part of the delights of the place.
Then add in the mellow jazz music playing in the background (I hate cafes with loud music so absolutely luxuriate in this place) and it's hard to tear yourself away when you're just so darn comfortable.
The Fabulous Bar and Dessert Cafe is known too for its lounge-style atmosphere at night too. Mellow music, a pretty vibrant crowd, great cocktails and a place where you can sit around for hours with friends, and you'll never be moved on. Oh, and did I mention the fast, free Wi-Fi? Can you see why I love it?
You'll find The Fabulous Bar and Dessert Cafe 32 Chakraphong Rd, Khao San Rd, Phra Nakorn, Bangkok.
And check out the videos below – sooooo beautiful.