(**Updated February, 2020 — There are no longer any Gap stores in Thailand as the company decided to close more than 200 stores worldwide due to poor sales).
A few years ago, Bangkok, Thailand finally got a Gap store. As a long-time fan of Gap clothing, I had been waiting for this store opening for months. So, when it finally opened a Thai friend, who had never seen a Gap store, and myself headed to Central World Plaza mall in Bangkok, for the store's grand opening.
True to form, on its opening weekend, Gap was absolutely crowded. But was it really worth shopping there? It is worth shopping at now? And, if you do, what will you find? 
Location of The Gap, Bangkok – Thailand's first Gap store opened in Bangkok's largest mall. Central World Plaza is also south east Asia's second largest mall and already has many American and European casual clothing stores. So, when Gap opened, it began its first day of operations with a lot of competition.
The store is located on the ground floor of the mall in prime real estate, right next to a large open space usually used for fashion shows and car shows. It is also near two of the main entrances into the mall, so sees a lot of foot traffic.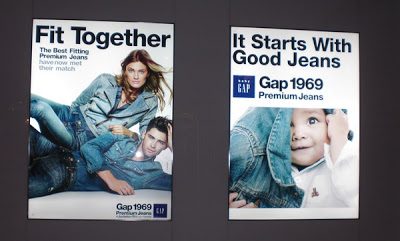 The Staff at Gap – Upon walking into the store, the first thing I noticed was how much like American shop assistants the Gap assistants seemed. The ones I talked to spoke good English, which is still unique in Bangkok. They also seemed knowledgeable about the products and were quick to pull something off the shelf to either go with something I was trying on or to suggest as a better alternative.
However, unlike many Thai shop assistants, they weren't too pushy and knew when to back off and leave me alone. Well trained in the American way of helping customers in fact. 
Gap Clothing – Unfortunately, I was disappointed with the clothing at Gap – at least, for me. While the store has two separate sections for Baby Gap and Gap Kids with lots of cute kids' clothing, and a large section for men with typical plain but cool (and sexy!) clothing, for women the selection was a bit sparse.
There were a few bags I liked (but not at the high price), and a couple of shirts but, overall, women's clothing seemed limited and a bit dull.
The other thing that was slightly odd was, sure, it might be still winter in the west but that doesn't mean we want winter clothing and winter colors in Bangkok. With temperatures on average of 90 degrees all year round, it was a bit surprising to see so many long sleeved shirts and sweatshirts and even a few lightweight jackets (although I did love an electric lime green one).
Hopefully, with a bit more experience, Gap buyers will realize Thais (and westerners living here) don't wear that many long-sleeved shirts or jackets. It's just too darned hot.
There is the Gap's usual huge selection of jeans though in many styles and shades, which I am always happy to buy as the quality is good.  
Prices at Gap – One surprising thing at Gap were the prices. As a westerner living in Bangkok, I am used to having to pay higher prices at European and American clothing stores – everything is, after all, imported. It was a lovely surprise therefore to see the prices at Gap were basically the same prices I would pay at a Gap store in the US.
I will enjoy shopping there when some more spring or summer-style clothing hits the shelves.
Overall, I am still thrilled Gap now has a store in Bangkok. With the crowds checking it out last week, and many Thais buying things, I think it's going to be a big success.
In fact, by the end of the year, I wouldn't be surprised if there aren't at least five more Gap stores in Bangkok with others opening in other Thai cities later.
If you want to check out Bangkok's first Gap store, head to Central World Plaza – it is the enormous shopping mall near Chidlom BTS sky train and just a five minute walk from Siam BTS sky train.
The store is on the ground floor and, with its large size, plus the usual Gap posters everywhere, you can't miss it.