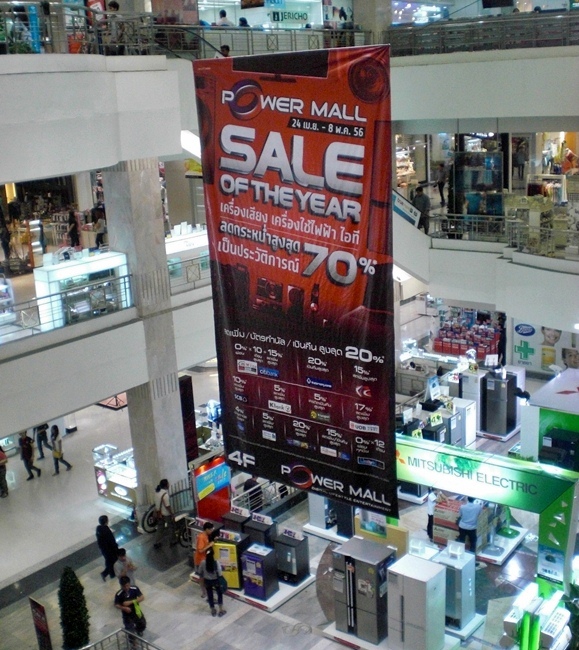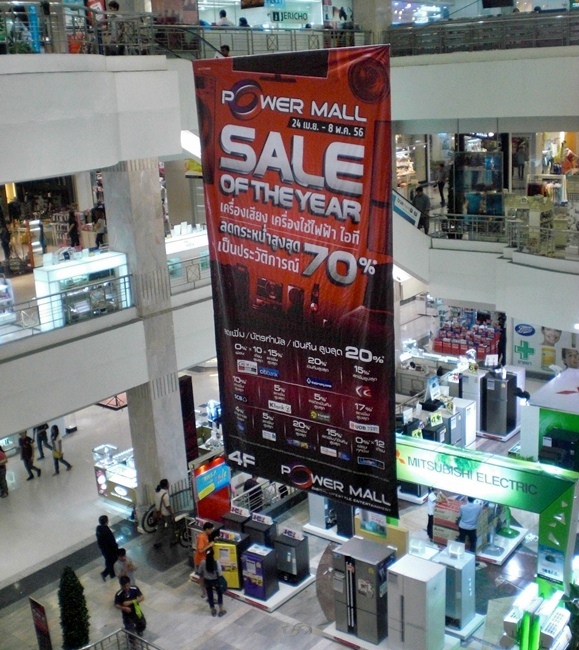 When I first moved to the northern part of Bangkok, Thailand I used to travel to the downtown area when I wanted to shop at the mall. That is until I discovered The Mall Ngam Wong Wan.
The Mall Ngam Wong Wan is one of the largest malls in Bangkok, but unlike many of the other malls that are in the town center, this massive 7-storey mall is in northern Bangkok just over the border in the city of Nonthaburi.
It was built in the 1980s, so is also one of the oldest malls in Bangkok, and has so many shops, restaurants and attractions it is a favorite destination for Thais, tourists and expats.
Where Is The Mall Ngam Wong Wan?– The Mall is located on Ngam Wong Wan Road, in the Bang Khen area of Bangkok/Nonthaburi. It is actually in far north Bangkok, almost as far as it's possible to go, but still only a 10 minute taxi ride from the sky train and underground train systems, so it is easy to get to.
What is The Best Way To Get To The Mall Ngam Wong Wan? – There are several ways to get to The Mall, but the easiest from many areas of Bangkok south of the mall is to take the sky train to Mo Chit station or the underground train to Pahonyothin station, then take a taxi from here to the mall. From both stations, it is only a 10 minute taxi ride, most of it on the expressway.
If you don't mind spending a little more time, the cheapest way to get to The Mall is by bus. From Mo Chit sky train station you can take the 134, 63 or 104 buses, and from Pahonyothin, the 63 and 104 buses will get you there.
Or, you can take a 522 bus from Victory Monument sky train station. Fares on the buses range from 13-18 baht (43 cents to 60 cents), and taxis run around 100 baht ($3.33) from Mo Chit station.
Shopping At The Mall Ngam Wong Wan – I enjoy shopping at The Mall as it has many of the stores that are at other area malls as well as many stores you don't find everywhere. You'll find shops like Jaspal, Nike, Ralph Lauren, Boots, Watsons, The Export Shop ( a wonderful place to find dirt cheap clothing), a huge Power Mall with every electronic imaginable, Yves Rocher, and lots more
There's tons of shoes, clothing and sporting goods stores, opticians and eye clinics, CD and DVD shops, beauty salons and spas, toy stores, children's shops, electronics stores, handicraft shops, and lingerie.
Every bank in Thailand has a branch here, there's mobile phone and internet companies, and there's an enormous supermarket in the basement that's one of the best in Bangkok for not only Thai groceries but also imported Western products. Check out their deli section too. The already-made foods, ready to take home and pop in the microwave, are delicious and only around $1 a meal.
Entertainment At The Mall Ngam Wong Wan – The Mall is popular with families, as there's many entertainment and education facilities. You can take your kids for piano, art, English or Chinese classes. After they're done, grab lunch, then head upstairs to the indoor water park or to the 1,800 seat movie theater to see a movie.
Or if you feel like something more strenuous, why not try the huge bowling alley. There is even a karaoke lounge, where you and your kids can sing to your heart's content.
Eating At The Mall Ngam Wong Wan – There are so many food outlets here you'll be spoiled for choice. Fuji Japanese restaurant, Hachiban noodles, S&P Thai food, Starbucks, Chester's Grill, Swensen's Ice Cream, KFC, MK Restaurant, Pizza Hut, Santa Fe, and Shabushi are just a few of the many places to eat.
The Mall also has an excellent food court with more than 30 stalls, where you can buy traditional Thai food with some western-style fast foods thrown in. Average meals here are only $1.20 per meal and, with a delicious traditional Thai Iced Tea or Coffee, you can enjoy a great lunch for $1.75.
The Mall Ngam Wong Wan is perfect to visit at any time but, be warned, on the weekends it is absolutely crowded as it's one of the most popular malls in Bangkok. If you like to do your shopping in a slightly quieter mall (although it's still busy during the week), the best time to visit is Monday through Friday before 3pm.
The Mall Ngam Wong Wan is at 30/39-50 Moo 2 Ngamwongwan Rd, Bang Khen, Mueang Nonthaburi, Nonthaburi, Bangkok.