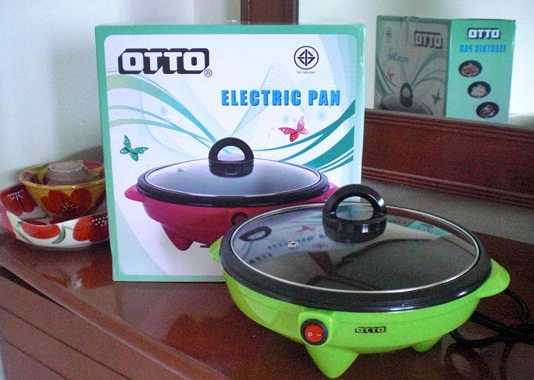 Living in Bangkok, Thailand, I don't cook. There isn't any need to. Not when there are food stalls close by where I can grab cheap and delicious food that's already made from fresh ingredients. But recently I've wanted to cook scrambled eggs for breakfast or make some pasta occasionally and, without an electric pan, that was pretty much impossible.
That is why I just bought the Otto Electric Pan Model SP 300A and, let me tell you, it is not only one of Thailand's cheapest cookware options, it is definitely Thailand's best cookware for the price.
The price of the Otto Electric Pan
The Otto Electric Pan SP 300A is normally cheap. The Otto Electric Pan I bought this week was even cheaper than usual, however, as it is currently on sale at Tesco Lotus in Bangkok. Normally 500 baht (around $17.25), Tesco is selling the Otto Electric Pan SP 300A this week for just 399 baht  (or $$13.75).
Pretty cheap for a sturdy and durable electric pan that boils, grills, roasts and fries.
It is not only the cheap price I like about the Otto Electric Pan, though. It is also that it looks cute in my kitchen (it comes in either bright pink or fluorescent green), and that it is small. That means it doesn't take up half my counter space, which is hugely important when your kitchen is as small as mine is.
Perfect for 2-4 people
But being small doesn't negate the pan from doing exactly what I want it to either. It cooks enough food for at least two people, (or for four if you are making something like eggs) it cooks it perfectly and, during the half dozen or so times I have used the pan so far, absolutely nothing has stuck to its non-stick surface.
Not surprisingly really, though, as Otto electrical products are known for their high quality.
All in all, if you are in Thailand and looking for a small, cheap electric pan that will cook basic dishes in your home — and cook them well — you can't do much better than the Otto Electric Pan Model SP 300A. Not for that cheap of a price.
You will find it at Tesco Lotus,  Big C and online at Lazada.
Update: July, 2016
I have now owned the Otto Electric Pan for just over two years. During an average week, I use it two to three times, sometimes more. In all that time, it has never stopped working, nothing has stuck to the bottom of the pan and, for the foreseeable future at least, it is still going strong.
In other words, two years after I bought this pan, and I still can't recommend it enough.