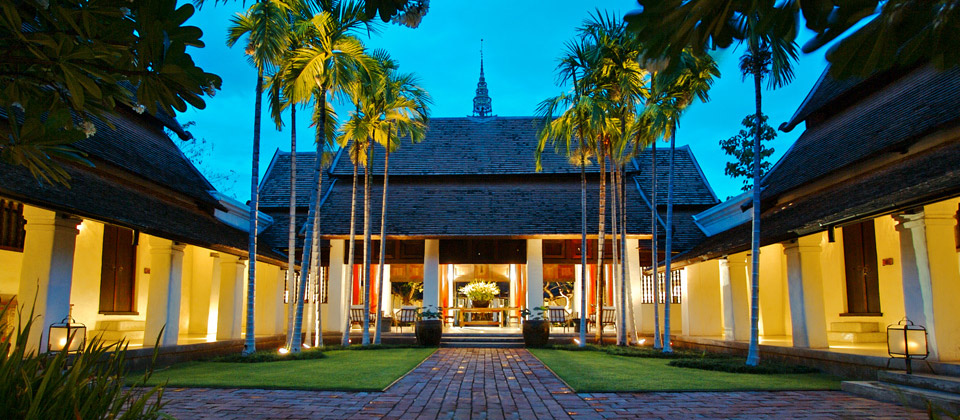 On a recent trip to Chiang Mai, Thailand, I stayed at The Rachamankha Hotel in the old part of the city. A stunningly beautiful boutique hotel oddly, in my more than 10 trips to Chiang Mai, I had never heard the name before.
But a Thai friend, who knows the city well, recommended it and, after two simply perfect nights, I will be hard-pressed to ever stay anywhere else.
Location of The Rachamankha Hotel – The location of the hotel is part of what makes staying here so perfect. The Rachamankha is in the middle of Chiang Mai's old city, close to Tha Phae Gate and, of course, the city's most famous Sunday market, the Walking Street Market.
Add to that trendy art galleries, cafes, restaurants and some wonderful boutique shops, and if you didn't want to leave a four-block area you'd never have to.
The Rooms at The Rachamankha – The hotel is designed on a Lanna theme, Chiang Mai's ancient kingdom. For people not familiar with this, it has similarities with Chinese architecture and design, features you will have seen if you have watched any Chinese historical movies. But, either way, it is incredible.
Many of the hotel's guest rooms and public rooms are built around old-fashioned courtyards, and you have no idea how luxuriously decadent that makes you feel.
The hotel has 25 rooms, superior, deluxe and several suites. I stayed in a superior double room which, although the lowest level room, you'd never know. (A word of warning, unlike many other hotels, you're best booking on The Rachamankha's own website. When I did a search to book a room through online discount hotel services, room rates were almost $40 cheaper per night through the hotel's own website).
Rooms at The Rachamankha are lovely. Mine had a flatscreen TV with cable, a DVD player (which I knew in advance, so I brought my favorite movies to watch), bath robe, slippers, an antique writing desk (wonderful, as I am a writer by trade), and free Wi-Fi internet.
The room was decorated with Chinese antiques, stunning against the backdrop of pristine white-cream walls (they are so clean, they look like they are painted after every guest leaves).
Outside my room was a long communal verandah with cushioned benches where, as the heat of the day disappeared, it was a marvellous place to sit, relax, and think.
Relaxing in the library. was also something I looked forward to each day There is an enormous selection of books to read as well as a couple of computers, so you can get online if you are internet-obsessed like I am. The room itself is charmingly designed and such a pleasant change from the usual chain hotels where atmosphere simply doesn't exist.
Dining at The Rachamankha – The hotel has two restaurants. You can eat indoors in the dining room (elegance just seeps out of the walls here, and you truly feel like you're in a Thai period movie), or outside in the romantic courtyard restaurant.
The food is mainly Asian, with some western fare, but even people who aren't familiar with lots of Asian dishes will be enchanted by the food here. It is superb.
Breakfast is also included in the room rate and don't miss it. It is truly five-star.
Facilities – Located in another courtyard area, the hotel swimming pool is nice for a relaxing dip or for enjoying a drink around the pool and a good book. There is also a pretty boutique, which I didn't shop in but saw from outside, and there is a spa next to the pool, if you would like a traditional Thai massage.
The Rachamankha Hotel is so beautiful, words do not do it justice.
When I arrived, I was taken by the structure of the building which, surprisingly, is new, but looks like an ancient Thai-Chinese temple. But the rooms themselves, the attention to detail, the stunning design, and the attentive staff make The Rachamankha an absolute must stay for anyone visiting Chiang Mai who likes unique and exclusive.
Expect to pay at least $250 a night for a room, but, believe me, staying here is worth every penny.
You will find The Rachamankha Hotel at 6 Rachamanhka 9 in Chiang Mai's old city.