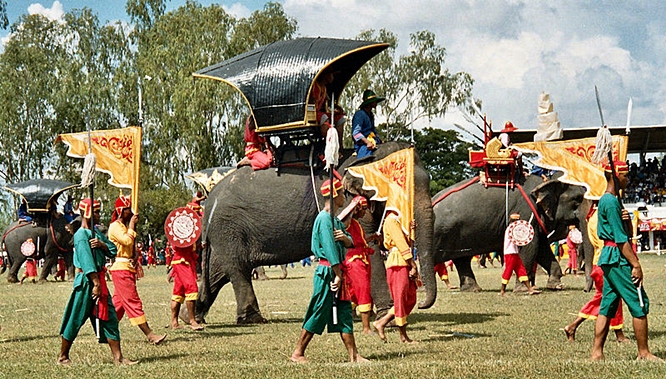 The Surin Elephant Round-Up is an annual event in Thailand that honors elephants and the mahouts (trainers) who live their lives with them. The festival is fun as it includes an elephant parade with more than 300 elephants, a re-enactment of a famous Thai battle, an elephant football game and a tug-of-war. There is also a big elephant banquet, where long wooden tables are set up full of the elephants' favorite foods.
Surin is in Isaan province in north-eastern Thailand, around 450 kilometres north of Bangkok. People who live in this area have been known as expert elephant catchers for generations, catching elephants in Cambodia and bringing them into Thailand.
Interestingly, Surin is also famous among Thais as more than 6,000 foreign expats live there – most of them men married to Thai women.
Since the Thai logging trade collapsed in the 1990s, the Thai Tourism Authority of Thailand has been supporting local events that bring in tourists to see the elephants, without damaging local habitat. The Surin Elephant Round-Up is one of these events.
Taking place on the third weekend of November every year, the festival begins on Friday morning. Beginning in the early hours, around 300 elephants walk into town. Some of the elephants carry local officials, some of them carry their mahouts dressed in traditional Thai dress. Parading through town, they head for the centre for the opening ceremony.
School groups and community groups also join the procession, most wearing traditional Thai costume. Here you will also see traditional Thai dance and hear traditional Thai music, as the villagers will play instruments and dance as the procession weaves its way through town.
In the centre of town, after an opening ceremony, the elephants are served. An enormous buffet made up of around 100 long wooden tables is laid out. Bananas, banana leaves, fruit, vegetables, grain, everything an elephant likes is set up in enormous piles on the table and the elephants dig in.
It's a wonderful event to take amazing photos not only of the elephants, but also of the villagers in traditional Thai garb.
On Saturday, the elephants are taken by their mahouts to the Football Stadium in town and here they take part in a re-enactment of a famous Thai battle, followed by a football game, log carrying and a tug-of-war competition.
The battle re-enactment is amazing, with men dressed in full Thai traditional military outfits from hundreds of years ago and re-enacting a battle between Ayutthaya troops and the Hong Sawadee. Before the 18th century, elephants in South-east Asia were the main war machine. In fact, one Thai King had more than 20,000 trained war elephants.
The Surin Elephant Round-Up is popular with both tourists and locals alike and people travel from all over Thailand to see it.
If you would like to go, do remember to book a hotel early as they get booked up very quickly.
Also don't forget there are other interesting things to see in Surin and the surrounding area – temples, fairs, Thai handicraft villages, anciet ruins, the Khmer Sanctuary at Pimai and much more.
And for more on elephants in Thailand, read Should You Visit an Elephant Camp in Thailand? And, yes, I believe, if you want to, you should.