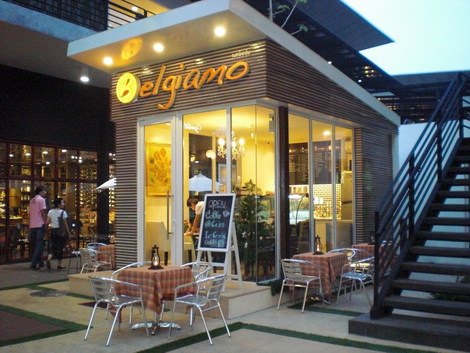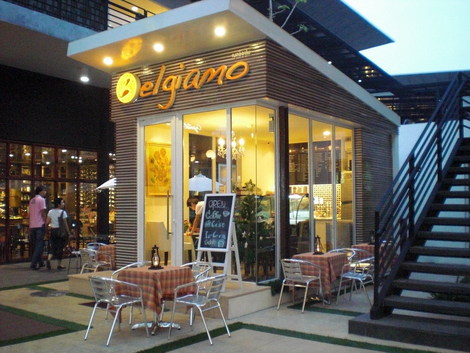 The new 'in place' for Bangkok's trendy, fashionable and hi-so is Crystal Design Center (CDC). A concept mall, billed as the "most comprehensive design center in Asia", Crystal Design Center is the place to go if you're shopping for an architect, a designer, furniture, fabrics, floor and wall coverings and household accessories. It's also one of the most beautiful places in Bangkok to eat, drink coffee or just hang out and people watch.
Where is Crystal Design Center? – Not exactly in the most convenient location in Bangkok unfortunately, it's a bitch to get to with lots of one-way streets and expressways to navigate. Located on Praditmanutham Road, it's only a few minutes from Ekamai-Ram-Indra highway and from Ladprao Road. If you're unsure how to get there though, I recommend taking a taxi as most of the taxi drivers know the 'short cuts', so can get you there in a fraction of the time you'd take yourself.
What is Crystal Design Center? – Crystal Design Center or CDC, is a one-stop place for everything connected with architecture, design and homes and offices. At CDC, you'll find furniture and household accessory showrooms, fabrics and wall covering showrooms, architectural libraries, and gift shops.
There's also a huge selection of upscale, extremely trendy restaurants and cafes, and a plethora of coffee shops unlike anything else in Bangkok. Being located in a design center, every single restaurant, cafe and coffee shop is simply stunning in design and atmosphere. The food quality, however, isn't quite there yet at several places but, if you're looking for a beautiful place to eat or drink coffee, surrounded by the 'beautiful people' and the 'high-society types' then CDC is the place to go.
Where to Shop at CDC – At the moment, the first floor area of all the CDC buildings (and there are many) are just about the only places completed. The second floors are still being completed, but it looks like they all already have tenants, so expect to see this place completely packed with shops, design studios and restaurants within the next six months. In fact, as popular as CDC is, I'd imagine there's a bit of a waiting list.
Don't miss shopping at Home Department Store. They have the most beautiful accessories, although of course they're high-end price too. The Craft Company Ltd. has gorgeous accessories, very bright, colorful and exotic, and subUrban (yes, it is capitalized like that) has a lovely line of travel accessories. Also, check out Chinese House, for a definite Asian style, and Goodrich Gallery for stunning (and high-end) wall coverings, fabrics and carpets.
Where to Eat and Drink at CDC – There are so many beautiful restaurants, it's difficult to choose. Mo-Mo Paradise is a wonderful shabu-shabu restaurant, where you can eat as much as you want within a time limit – and the food is fresh and delicious. The Aston Gastro Bar is a New York style bistro that's good for international food, or if you're looking for Thai, you can't go wrong with Ruen Malika – one of the best Thai restaurants in Bangkok.
For the most beautiful restaurant, don't miss Wine I Love You. While they don't seem to have settled down with the food yet (they've only been open three weeks at the time of this writing), the design of Wine I Love You is stunning. Also, EST. 33, owned by Singha Beer, seems to be the most popular restaurant at CDC as it's packed every night and has a lovely deck overlooking a couple of man-made pools.
For coffee, there's lots of cute coffee shops, including the large Coffee Gallery, elgiamo – a cute little kiosk coffee shop with outdoor seating, and Cuppi Coffy, a simply lovely cafe with a cute outdoor counter as well as an indoor coffee shop with great food and coffee and free Wi-Fi.
If you love a beautiful place to walk around, enjoy food, sip coffee, people watch and, of course, shop, Crystal Design Center is absolutely smashing. It might be a bit of a pain to get there but, in my opinion, it's well worth it. They even have an excellent supermarket, where you can do your weekly grocery shopping as well.