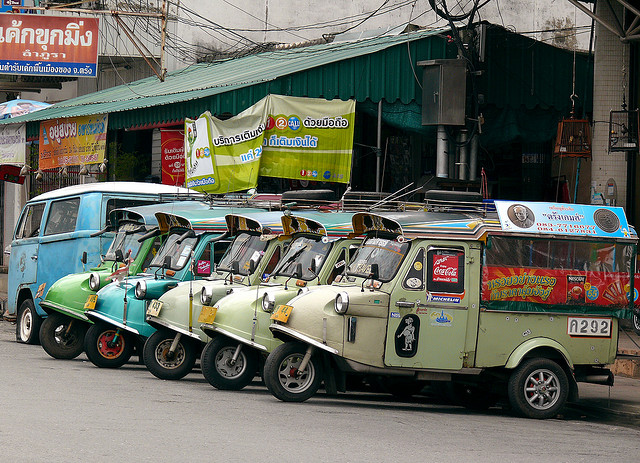 Although world-famous for its underwater wedding ceremonies, where couples tie the knot while diving underwater, Trang has many other fun things to see and do. Once a tourist destination for mainly Thai tourists, in recent years foreigners are discovering Trang and loving what they find.
With beautiful beaches, trekking, birdwatching, golfing, ancient temples, great shopping and more, there's such an incredible choice of activities, you might feel a little overwhelmed. No worries. Just start off with these four must see and do things in Trang Province first.
Boat Trip to Hat Chao Mai National Park – Like many oceanside areas of Thailand, Trang is full of tour companies that organize day trips to places of interest all over the province.
One of the best of these is the boat trip to Hat Chao Mai National Park. Hat Chao Mai is an absolutely massive national park, made up of various islands, and with several beautiful beaches, a famous cave, an old fisherman's village and lagoons. One of the most beautiful places in southern Thailand, if you're at all into nature, Hat Chao Mai is a must visit place.
Boat trips to the park start at around 900 baht ($30) and they take you to various islands in the park, including Koh Muk, Koh Kradan and Koh Cheuk. They'll pick you up at your hotel around 9am and drop you back off in the late afternoon. It's an all-day trip, and lunch and soft drinks are included in the price.
Various companies run this trip, and what they each do during the trip is slightly different. Ask at any tour company office in Trang for more details.
Khao Banthat Mountains Trekking – Another trip organized by local tourist companies is a day trekking in the Khao Banthat Mountains. You will go in a small group, usually no more than five or six people, and be driven to the base of the mountains by mini van.
Once there, you'll begin your trek up into the hills, which takes around three hours. The scenery is beautiful and the area so quiet and peaceful.
For lunch you'll stop at one of the local hilltribe villages, where you'll eat a casual lunch of Thai food (included in the price of the trip). In the afternoon, you'll visit a famous local waterfall, then head back down the mountain to the vans and back to your hotel in time for dinner.
A day's trekking starts at 1,500 baht ($50), but that includes lunch, soft drinks, mini van, and an English speaking guide.
Market Shopping in Trang – Another must do thing in Trang is to spend the day market shopping. Unlike many markets in Bangkok, which are packed full of tourists, Trang has traditional Thai wet and dry markets that are fascinating to wander around, and an incredible place to take photographs.
During the day, the Ta Klang and Municipal markets are the best places to shop. You will find everything from fresh fish (still swimming in the bowl), squid, crabs, spices, nuts, Thai snacks, food stalls where you can grab lunch, shoes, t shirts, belts, bags and lots more.
At night, you mustn't miss Trang's Night Market. While nothing like the size of Chiang Mai's famous market, Trang's still has a lot of charm as it's authentic Thai with barely a tourist in sight. Look for cheap clothing (there's lots of very cool t shirts), costume jewelry, sandals, bags, local handicrafts and Thai snacks.
It is also a great place to grab dinner at one of the many street food stalls. Be warned though, Thai food is spicy but food down south is even spicier so, if you can't stand the heat, ask for it to be 'mai pet' (not spicy) and most food vendors will make it to western taste.